Swift and First-in-Line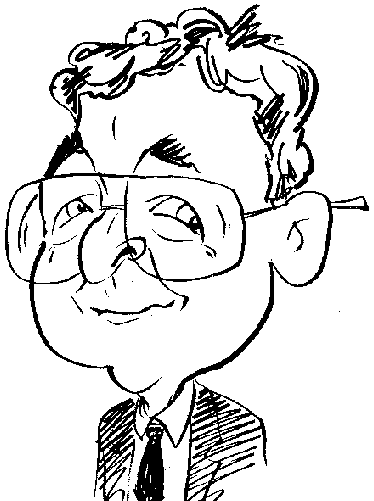 Review controls
My second laptop, and third as well, were both Acer units and could almost be regarded as desktop replacements. The same could not be said of this next Acer unit.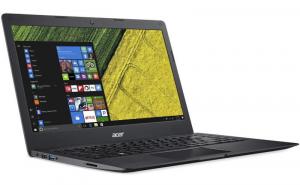 click image to enlarge
While its title might give you the impression that this next product could be the top-of-the-range offering, in fact the Acer Swift 1 is the opposite in this particular brand line up in its portfolio with regards to specifications. My review sample is decked out in an obsidian black plastic casing, embossed with a silver Acer logo to add a touch of style to its brushed finish. The device has dimensions of 339.4 x 234.9 x 17.9 mm (W x D x H) in its closed state and weighs 1615g which does include the permanently attached 4,780 mAh battery pack. This laptop should not weigh you down too much nor take up too much space when being transported between locations on your travels.
Sticking with the rather subdued appearance of the laptop, its external connection options have been kept to a basic minimum. Occupying the right side of the unit is a single USB 2.0 port. Following my usual practice, this port was quickly commandeered by yours truly for connecting the wireless mouse I prefer to use instead of the built-in touchpad facility. Mousing around, rather than the static environment of a touchpad, is a habit I find hard to break.
The left side of the laptop is more heavily populated. Here you will find the mains power connection for use with the supplied two-piece lead and 3-pin plug, USB 3.0 port, HDMI output port, 3.5 mm jack socket for headphones and a SD memory card slot. When inserting a card into the SD card slot, it was noticeable that the card would protrude slightly from the slot. Some might find this annoying but I found it useful as it made removing the card from the slot far easier.
The lack of an Ethernet port does mean that connection to a LAN and / or Internet access, via a router, does limit the user to the built-in WiFi feature. Actually Acer does offer a way to get around this lack if WiFi is not available. You can use the Acer Converter Cable. However as this item was not part of my review kit, I have not tested this feature. I relied totally on the use of a WiFi connection for Internet and LAN connections. The Swift 1 supports WiFi 802.11a/b/g/n giving a reasonable transmission speed.
Opening up the laptop reveals the usual arrangement of a keyboard and touchpad at the bottom with the device's screen at the top. The keyboard is of the standard 87-key UK layout with the accompanying 60 x 105 mm touchpad. There is no dedicated number pad feature. Situated on top of the keyboard, positioned towards the right, is the power button and an LED light that indicates when power is being supplied via a mains power source.
This laptop has a 14-inch screen capable of delivering a resolution of 1366 x 768 pixels. With an aspect ratio of 16:09, the screen has a pixel density of 112ppi. As you might suspect this screen does not have any touch screen capability. Mounted on the centre screen's top bezel is a webcam that can be used for video calling and other personal video features. This webcam is of the 720p variety.
Beating at the heart of this laptop is an Intel Pentium N3710 processor with a frequency clocked at 1.6GHz. The 4-core CPU is supported by an Intel HD Graphics 405 GPU and 4GB of DDR3 memory. Storage is taken care of by a 128GB SSD drive. Once the Windows Home 10 64-bit operating system has been installed ,along with the various items that Acer feel we can not do without and insist on including on their product, you are left with 92.3 GB for your own needs as you install your favourite applications and personal data. As there is no optical drive feature in this device, installing software will need to be carried out via the Internet or, in some circumstances, using the USB feature.
As mentioned earlier, the Swift 1 has a built-in 4,780 mAh battery pack. Testing the life of this battery, I ran my continuous video viewing test. The videos were stored on a USB 3.0 flash stick attached to the appropriate port and played using the freely available VLC application in full screen mode. After a seven hour session of video watching, messages regarding battery capacity being at the 10% level began to appear.
The Acer Swift 1 is a basic unit that is best regarded as a second unit for use when on the move. A quick check of the Internet reveals that this laptop, or Ultrabook if you prefer this term, is currently available for £284.34 from Amazon.