Acer Spin 7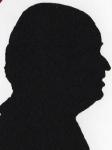 This is both a Notebook and a Tablet computer. It is of course quite light which is nice if you are walking around with it all day but that means compromises the main one for me was the lack of a full size USB port which for some might be a problem.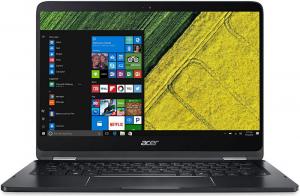 click image to enlarge
The Acer Spin 7 measures 32x22.5x1cm and it weighs 1341grams. The diagonal screen measurement is 14inches and the recommended display is 1920x1080.This is an updated version of one the units I got to briefly try during last year's Glasgow visit.
At that point it had Windows 1511 and now via updates it has Windows 1703.
It has on/off button on the left and beside this is a volume rocker, both the front and back are clear. The right side has a 3.5mm socket for headphones and two USB 'C' ports. The base has a pair of rather good speakers and that's it.
There is a power adapter to 3.1 lead and a short USB 3.1 to USB3 adapter so you can attach external devices and memory sticks.
As this is both a Notebook and Tablet the screen rotates through 180 degrees. Apart from the screen and screen surround everything is matt black.
When you turn the screen through 180 degrees so you are holding the keyboard it becomes dumb and the screen rotates through 180 degrees.
It has an 83 key keyboard with the alpha keys being full size. There is a 2cm strip to the left and right of the keyboard with a 3.5cm strip behind the keyboard. The huge 14x6.5cm trackpad is mounted in the centre of the 8.5cm area in front of the keyboard.
The following statement on the Acer site seems suitable before I go into technical details 'Impossibly Slim and Incredibly Light'.
My review unit came with an Intel Core i7 running at 1.61GHz. It has 8GB of RAM, Windows 10 Home 64bit version 1703 and 10 point touch. It has a 250GB SSD.
Boot Up to a useable desktop is only eight seconds and two second shutdown.
Battery life was around six hours of mixed use and possibly only four hours when used solely for streaming. A full recharge from empty takes two hours.
For me as a Notebook the only thing missing is a backlit keyboard.
As a Tablet I also liked it and resting in my lap I found moving around the screen fine and even at my advanced age managed to coordinate my fingers to do more than simple things that involved more of the available 10 point touch.
The small gap between the keyboard and screen when in Tablet mode seems to accentuate the volume and the same level used when in Notebook mode seems to loud for comfort in Tablet mode.
The screen was clear, sharp and plenty bright enough for all modes of use apart from when strong sunlight is directly onto the unit.
I assume the lack of a full size USB port is simply because of the thinness of the unit, remembering to always have the supplied adapter with you might be a problem if you want to attach a USB stick or hard drive.
This is a well-made unit that is worth the price.
The Acer Spin 7 is available from Amazon for £603.56 plus £5.40 shipping.