Acer Predator 5000 PO5-610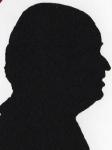 This is one of the Predator gaming range, most of which are big heavy powerful notebooks, this is slightly different in that it is a big heavy Tower system, it has a rather unusual configuration of external connections in the supplied unit.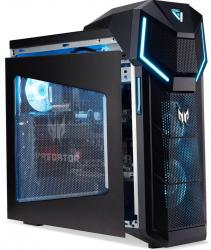 click image to enlarge
It is 56cm tall, 52cm deep and 22cm wide. The front has a couple of blue LED lines as well as the on/off button and an optical (DVD) drive.
The front of the top of the unit has a pair of USB3.1 ports, another USB3.1 and a USB 'C'.
The rear has a pair of USB2 ports, a line of four USB3.1 ports, a pair of USB2 ports and an Ethernet port. Six audio ports next taking two of the eight expansion bays two Display Port sockets, one HDMI socket and a further Display Port. On the second bay a Digital connection.
Finally near the bottom the mains input with an on/off rocker switch beside it.
I assume the three Display ports are so you can connect multiple panels.
It comes with an Intel i7-8700 running at 3.2GHz, 8GB RAM and Windows 10 Home 64bit v1803.
It has a 128GB SSD drive 'C' and 1TB 'D' drive.
The configuration as sent to me was 50% of what is for sale on the Acer Store or indeed on Amazon, so the 8GB or RAM is doubled, the 128GB SD is doubled and the 1TB drive is doubled, my unit was blisteringly fast so I can only guess at what the version for sale can do. I got 14 second boot and 2 second shutdown.
Having the ability to power three panels by Display Port would give a near 180 degree view if they were placed in a curve.
I am not a gamer but I checked out a couple of reviews and this unit comes up well above – speed wise – others in the same price sector. I see from some benchmarks that even if you use it in 4K that you are still getting over 30FPS.
Extending my search found the configuration I was sent on sale at Curry's PC World so you may find one to try at your local store.
While most of my tests revolved around a single 27inch flat panel running at 1920x1080, I did get a chance to try it running at 4K, using both HDMI and Display Port connections, but not with running dual panels but as what I was sent was just the unit (no keyboard, no mouse no panel) the other parts used were mine. Reading the Curry's PC World specifications that seem to be the way it is sold by them.
When pressed into hard work it may get noisier as it has 'ice tunnel' cooling. In my tests even with four programs running at the same time it was really quiet.
For all that power it is not expensive and with extra RAM sockets more memory is also addable, it is however big and I am not sure why in 2019 you would need a DVD drive.
The Acer Predator 5000 I was sent is available from Currys for just £1199.