ASUS ZenBook UX330UA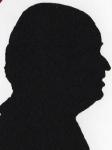 This notebook is both light and thin, it also has a metal chassis and for good measure it boots quickly. Anyone on the move that needs a PC has probably only one more request that it runs all day without the need to search out mains power, it can do that as well.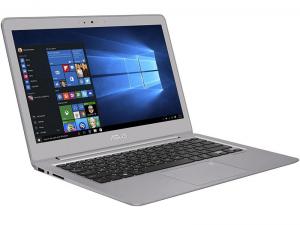 click image to enlarge
The ASUS ZenBook UX330UA measures 32x22x1cm, the figure at the front is less than 1cm and at the back just over 1cm, it weighs only 1206 grams. According to the website it is made of an aluminium alloy, which in summer would always make it feel cool in winter you may need gloves.
The left side has a USB port, a 3.5mm socket for headphones and an SD card slot. The front is clear. The right side has LEDs for power and battery, next are mini ports for HDMI and USB, next is a full size USB and finally DC power input. The back is also clear as the screen opens over it to 135 degrees.
The base has four small domed rubber feet to stop your desk getting scratched and two 3.5x1.5cm speakers near the front that produce adequate sound. As stated everything – even the screen surround – is aluminium so no finger marks show and the screen itself is not very reflective, my unit was the normal grey colour but it is also available in rose gold.
It has an 83 key rubberised keyboard that is backlit for around 45 seconds after a key is pressed so ideal for use in the dark. The alpha keys are full sized.
There is a 2.5cm strip behind the keyboard and this gives a small gap between the keyboard and the screen where heat is dispersed. There is a 2cm strip left and right of the keyboard and a 9cm wrist rest area in front of the keyboard the 10.5x7.5cm trackpad is mounted 10.5cm from each side.
The viewable screen is 29.4x16.6cm which gives the notional diagonal imperial measurement of 13.3inches. The screen display is 3200x1800 and by default Windows displays everything '200%' as otherwise most people's eyes could not cope. However the occasional pop up like the 25GB of free Dropbox storage for 6 Months is an image that does not enlarge so good luck trying to fill in your user name and password on the front screen before things become normalised.
I said it booted fast and this figure is 9 seconds to a working desktop – longer if you set a password – and only 3 seconds to shut down. A full recharge from totally exhausted took 210 minutes while working.
My machine came with an Intel i5 processor running at 2.3GHz, it had 8GB of RAM, a 237GB SSD with around 170GB available after the upgrade to Windows 10 (64bit) version 1607. For those who have not read my reports about this update it is not quick, it will require several reboots and only when fully updated will it allow you to remove most of Windows 10 version 1511. This is a new version of Windows 10 and the so called anniversary edition (arriving after 18 months) is a vast improvement.
If all the non-essential items are removed you should just about have 200GB of storage available.
So what have you not got, an optical drive but then most things can be downloaded and installed from either SD Card or USB stick. It would possibly be nice to have more storage but I tested several external USB drives which worked correctly. The big minus is no touch and this is after all what Windows 10 was made for. However the overall experience is positive and once this starts shipping with Windows 10 version 1607 pre-installed – which must surely be soon - this is a very nice system.
The ASUS ZenBook UX330UA is available from Amazon for £729 with free delivery.