2Raumfeld Start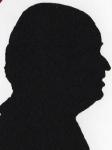 Having recently told you about their rather good Sounddeck here are a pair of speakers that can be used in several ways and that even includes multi room use. With these speakers the sounds on your phone will never have sounded so good.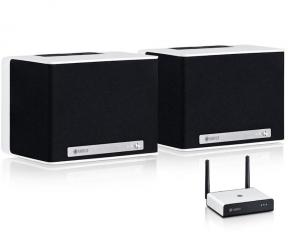 click image to enlarge
The pair of speakers are 17.7x10.5x12.7cm each, and they weigh 1407grams each.
If you currently buy the pair you also get the Wi-Fi extender included, this is 11x11x2.5cm.
You can have them in Black or White or should you wish one of each which could help identification and possibly even satisfy the lounge fashion police.
Each of the speakers have a 10x3cm area removed from the base of the rear to allow any cables to fit in and still allow them to sit on the very slightly raised rubber area that helps protect furniture.
The connections are Ethernet, USB, Reset hole, Setup button and mains input.
The front near the base of the units have two white pin hole LEDs and to their right an on/off button.
Set in the top in a rubberised area are touch buttons to allow control from the speakers.
Having found a suitable spot for your speakers plug one in and having downloaded the Raumfeld App from either the Android or iOS store run it, it searches out the speaker and then follow the on screen instructions. Once this is done you can then do the same procedure for the second speaker, you are given a chance to name each speaker such as Lounge, Kitchen or Bedroom or if you chosen different colours say Black or White.
If you are installing the Raumfeld Expand then say so when you start the setup.
Should things not go as expected there is an '0800' phone number for technical assistance.
Apart from playing your own music it can also play music from places like Spotify (Premium Only), Tune-In, Napster, Tidal and others. Failing all these having something you like you can connect an Auxiliary cable to play your sounds that way. Depending on which service you listen to you get reasonable or good quality sound, if you buy from the link at the end you get a three month trial of Tidal whose quality is equivalent to CD.
Certainly using either something with a higher quality sound like Spotify Premium or Tidal gives a far better quality of sound. A good test would be to use the Auxiliary port with a good quality recording and then play the same using a lower quality output and you hear a lot more at both the high and low frequencies with the former.
Once setup is complete you can play tunes from your selected source as well as from an Auxiliary cable and or course content already on your phone.
Having the 'Free' extra extender means even homes with weak Wi-Fi can have the signal boosted and therefore your sounds can be heard in rooms that would otherwise be out of reach.
There are stores where you can buy this in the UK but if you are in London try Harrods that definitely stock Raumfeld kit. If you do go take some of your files and try them and remember the excellent built in equalizer.
From the Link below the 2Raumfeld Start is available for £399 with the Expand Wi-Fi hub and the three month trial of Tidal with a stated value of £46.55. This does not require a credit card to be entered to work just create an account and enter the code in the box.