Netgear's universal high-spec router

The Netgear Nighthawk X4S AC2600 WiFi VDSL/ADSL D7800 MU-MIMO modem router is aimed at ticking all the boxes for gamers and heavy users as well as for those who are keeping an eye on tomorrow's needs.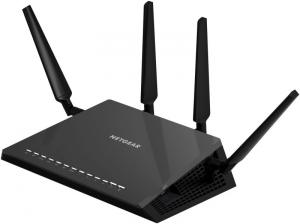 click image to enlarge
The X4S, which can sit on a shelf or be wall mounted, has four Gigabit Ethernet, an eSATA and two USB 3.0 ports together with four external WiFi antennas. The MU-MIMO (multi-input/multi-output) WiFi technology minimises wireless dead spots while the added power increases the range of the X4S which has a theoretical aggregate throughput of some 2.6Gbps made up of 800Mbps and 1.73Gbit/s respectively on the 2.4 and 5GHz bands. In addition, MU-MIMO technology allows the router to transmit data to, and receive it from, multiple WiFi devices at the same time. The overall effect being an improvement in WiFi performance.
As it has enough horsepower to meet the demands of the committed gamer and enough headroom for future needs, it is suitable for those who already have fast Internet connections such as FTTC (fibre to the cabinet) as well as those with traditional ADSL who are intending to migrate to one of the f aster services.
Stylishly presented in black with ventilation holes covering much of its underside, front and sides it occupies a roughly 30 x 20 cm footprint (plus the space taken up by the four screwed on antennas) and is about 5cm high. The router is best wall mounted or placed on the desk so that all the status LEDs together with the Wi-Fi on/off and WPS buttons, which are on the front of the top surface, are visible. There is, by the way, a LED on/off switch which turns off all with the exception of power. This is useful because the LEDs are bright and can be disturbing at night in an otherwise darkened room.
The power and LED switches and the networking connections are at the rear while the eSATA and two USB 3.0 connections are recessed on the sides and are conveniently accessible even though it should be noted that there is no eSATA power connector.
While the 20 page installation booklet provides enough information to get started, it was worth downloading the full user manual to get an understanding of the whole range of features and facilities even though I would not recommend printing out its 299 pages.
The initial installation was straightforward. There are numbered labels on both the router and the antennas so that there is no difficulty in fitting them all in the correct positions and then making the connection to the WAN (red Ethernet connector), or to the ADSL phone connection and then to the PC. While this latter connection could be either wired or wireless, I prefer to use wire -- certainly as a starter.
The Netgear Genie setup utility is accessed via a web browser. It is simple to use and its home page displays current status and allows access to the basic settings. These include the internet connection, the wireless access, attached devices and dynamic Quality of Service (QoS). This latter, when enabled, automatically identifies traffic, such as online gaming and streaming, which is not tolerant of transmission delays and ensures good performance by limiting background traffic such as BitTorrent or FTP downloads.
The ReadyShare feature handles both printing and disc storage to allow, among other things, the X4S to act as a media server in conjunction with an attached external hard drive while AirPrint converts an ordinary printer into an AirPrint capable printer as so enables wireless printing from iOS devices.
The advanced settings cover a whole range of additional features including port forwarding/triggering and VPN services. While parental and access control are among items catered for by the Security tab.
The Netgear N7800is very versatile and has the performance and features wanted by gamers and other heavy users and yet can be got working quite speedily. It is a premium product in a market where style is also an issue and must be taken into account. Hence, at a list price of £259.99 and available on Amazon, it could well get on the short list of a great many potential users.