Smart Wi-Fi Router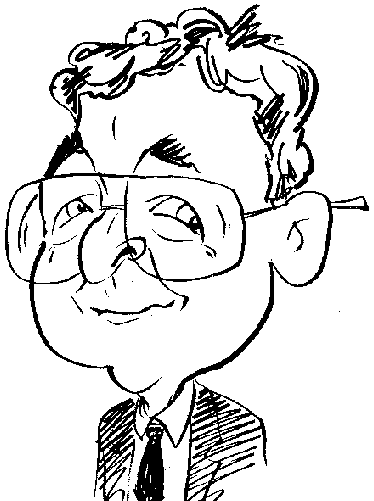 Is it a bird? Is it a plane? In fact it is neither of these two. This particular Nighthawk is a router from NETGEAR. Described as a "Smart Wi-Fi Router", the Nighthawk X4 offers to bring quad-stream X4 architecture with advanced gaming and streaming benefits plus other advantages to the user's home network.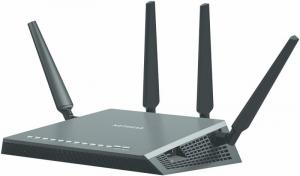 click image to enlarge
Arriving impressively packaged and weighty enough to certainly pique my interest, the Nighthawk X4 kit comprises of a number of items. Central to the product is the Nighthawk X4 AC2350 Smart Wi-Fi router. This is a black plinth-shaped box that has dimensions of 285 x 185 x 54mm (W x D x H). If your current available work space might struggle to accommodate the unit's footprint then there is an option to wall-mount the router with you supplying the necessary fittings.
The router's weight is a fairly substantial 778g and that is before you even add the four antennas that are required by this device. To give you some comparison with regards to the weight issue of this router, I weighed by current router which, unlike the NETGEAR offering, also possesses a built-in modem. This combination of router and modem weighed in at 352g – well under half of the Nighthawk X4.
Included in the box are the four antennas, power lead and Ethernet cable plus an Installation booklet. The four antennas screw into clearly labelled sockets on the router. According to the documentation supplied with the kit, the antennas are meant to match up with the connection points through the use of numbered labels. However, while the labels were present on each antenna, I was unable to discern any numbering on the antenna's labels. So I opted to take pot luck with regards to which point would host which antenna and it was while I was carrying this process that I notice the white numbering on the yellow labelling – hardly a colour scheme for easy identification. The antennas can then adopt what is considered to be the optimum upright position as if they were four sentries on guard duty.
You then need to attach a modem, while it is in an unpowered state, to the appropriate socket on the rear of the router. The modem socket is coloured yellow so that there should be no confusion with the four Gigabyte Ethernet sockets which sit alongside the modem connection socket. While on the subject of connection sockets, this router has a mains power socket on the rear, two USB 3.0 ports on the left side of the unit and an eSATA port on the right side.
Illustrated instructions are provided for the initial setting up of this router. You are given a choice of an Ethernet or Wi-Fi route with regards to creating connectivity. In the case of the latter, you will need the Wi-Fi network name (SSID) and password. These two important items of information are supplied on the product label. However, as this label is firmly attached to the cling film covering the top of the router, you may have already removed it, as I did, and then disposed of it. Fortunately I was able to resurrect the label from my waste bin. Of course if I had followed the old adage of RTFM then this problem could have been avoided.
As part of the set-up, you will be directed to the router's web management page which automatically checks for any firmware updates. You can download various software applications such as NETGEAR's ReadyShare Vault for managing backups and a desktop version of NETGEAR's Genie management software. There is also a mobile version of the Genie app which lets you carry tasks that include monitoring and controlling your home network from an appropriate device. You can change settings, diagnose and repair network issues if necessary, set up parental controls and transfer content between devices on the network.
Built around a 1.4GHz dual-core processor, the Nighthawk X4, with its four antennas, is meant to be able to handle a 4 x 4 stream of data but I do not know of any adapters or receivers that can take advantage of this facility that I might have been able to borrow for testing. So lets quickly by-pass this feature and move on to what you do get in the current state of affairs. This router can combine the 2.4GHz and 5.0GHz bands for a speed of 2.33 gigabytes per second.
Hard core gamers, especially, will appreciate this boost to speed, as will those who want to simultaneously stream more than one video. Although I have to concede that there are several devices which can beam an assortment of videos to different devices for a fraction of the price the Nighthawk X4 will set you back. The presence of the two USB 3.0 ports and eSATA connection will allow for backing up and the transfer of content between devices and destinations which is an additional plus point. However the increase in speed was not duplicated by a similar improvement in the range the Wi-Fi signal was capable of covering. I still needed to use a Range Extender unit for my home network coverage.
The increase in speed and other features do come at a cost. The Nighthawk X4 has been released with a price tag of £229.99. However by logging into the treasure trove known as Amazon.co.uk, you should be able to pick up this product for considerably less.
http://www.netgear.co.uk/home/products/networking/wifi-routers/R7500.aspx