A Bluetooth 2:1 Speaker System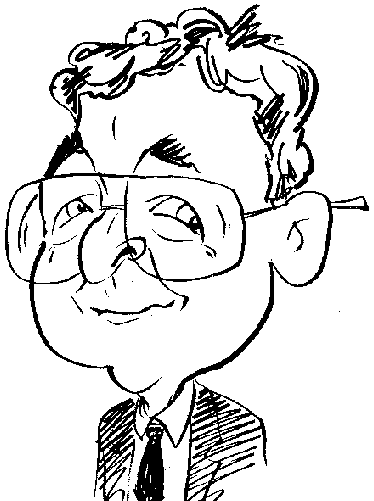 Review controls
Well known for its audio products, Creative has developed a 2:1 speaker system with a difference.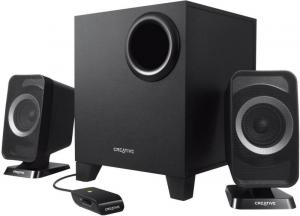 click image to enlarge
While the Creative T3150 speaker system has the familiar look of your standard 2.1 speaker system, it does possess a feature that I had not normally associated with such a product. This combination of a subwoofer and two satellite speakers have gained an attribute that I have been advocating to be included for a number of years. While Creative has not gone the whole hog and done away with all linking leads (power cable apart), the use of Bluetooth wireless technology in this product means that there is no need of a lead to link the speaker system to whatever device is providing the audio content. Actually a lead is provided for this purpose but this is purely for those devices that do not support Bluetooth and can be ignored if necessary.
Mounted on four stubby legs, the box-shaped, plastic encased subwoofer has dimensions of 184 x 225 x 190mm (W x H x D). With a circular grab hole at the front and a downward facing speaker grill on the raised base, the subwoofer features a panel on the rear containing the various connection options. Permanently leads for mains power, a wired connection for non-Bluetooth devices and a volume on/off control unit are arranged alongside a 3.5mm socket for attaching the linked satellite speaker units. Also located on this panel is the Bluetooth connection button.
Mounted on their own stand, each of the satellite speakers features a see-through speaker grill. The satellite speakers have dimensions of 75 x 150 x 90mm (W x H x D). Each satellite speaker is clearly labelled on the back with "L" and "R" designations to ensure they are placed on the correct sides of the subwoofer. As mentioned the satellite speakers are permanently attached to each other by a dual stranded lead which can easily be separated along its 140cm length to increase the position options. This does help offset the restriction of needing to site the subwoofer within 155cm of an appropriate power source due to the length of the mains lead. As with the subwoofer, the satellite speakers casing is plastic.
Pairing with this Bluetooth 2.1+ EDR (Enhanced Data Rate) feature follows the usual pattern of placing the audio source device in searching mode and then pressing the Bluetooth button on the back of the subwoofer. An LED on the volume control unit indulges in rapid blinking during the pairing stage and then settles down to blinking every couple of seconds once pairing has been achieved. This process is generally quick with the T3150 unit being clearly identified as available for pairing. The T3150 can pair with and remember up to eight devices although it can only communicate with a single device at a time. If you attempt to exceed the eight maximum limit of connections then the first paired device will be erased to make room for the latest candidate.
As mentioned there is an attached volume remote control with a lead measuring 150cm. This can be used, along with the source device, to adjust the volume level. It was noticeable that the volume level was far greater when Bluetooth was the delivery method rather than the 3.5mm jack socket at the end of the permanently attached lead for non Bluetooth devices. I would need to pump up a device's own volume level to very near the maximum when using the 3.5mm jack socket in order to achieve a reasonable listening level. Several different devices were used to check that this lack of volume was a general occurrence and was especially obvious when the device being used was able to supply the audio via both methods.
Audio quality is of a reasonable standard within the usual Bluetooth 10 metre range operating range. You do need to ensure that no outside obstruction come into contact with the 3.5mm jack plug as this can cause annoying feedback when it is not being used to link a non Bluetooth device. This black three-piece speaker system originally made its debut at the CEP EXPO 2013 show in Moscow. It is now available from selected retailers or www.creative.com at a price of £59.99. Maybe with their next "wireless" speaker system, Creative could remove another lead and give us an untethered remote control device.