Sinfonie II DAB and FM Radio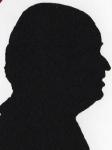 This Nevada DAB/FM radio is easy to use. While most will use it on mains it is possible to run it from 6x'C' batteries. The plastic finish makes it easy to wipe down so ideal for use in say a kitchen where there could be spills.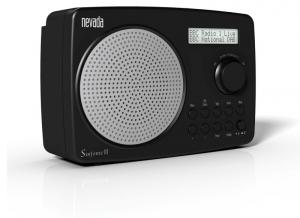 click image to enlarge
The Sinfonie II DAB/FM Radio measures 20.5x14x7cm and weights 730 grams without batteries. The size I have given is without the rod aerial being raised.
The eight piece rod aerial is 70cm long and should pick up stations even in low reception areas, where I live I used it successfully with around half that height but you should fully raise it for the initial channel scan process.
The back has a panel where the 'C' cell batteries fit into, above this is a clever recess that allows you to carry it around easily.
The base, top and left side are clear while the right side is where the D/C input is as well as headphone/earbuds 3.5mm socket .
This leaves the front, the left half has a 10.5circle in pierced grey behind which is the speaker. The top of the right half is a 6.3x1.6cm two line display. Below this a large multi purpose knob and pressing it will select the feature. Finally two lines of five small well marked in white press buttons that complete the unit's controls.
One nice difference is that this unit has an on/off button and a standby button remember if you want an alarm then use the standby button as unlike some other units off means off and no power so no wake up call with the wrong button press.
The black colour of the unit I was sent would probably not fit in most bedrooms and even if it did the 1.65metre lead to the small power brick plug would mean careful placement.
It comes with a 12 side A5 size User Guide that should enable you to use all the features of the unit, some are not that obvious.
Setting the Alarm is a matter of following the prompts once you press the Alarm button. The options are daily, Monday to Friday, Monday to Saturday or once. It would have been nice to have a second alarm option.
Setting sleep timer is also easy and once it switches off it goes into standby so time and importantly the alarm will still work.
It has 10 Presets and this looks easy to set however while I did not resort to standing on my head it might have been easier if I did. Two short paragraphs to cover both setting and recalling presets but setting them is certainly not easy as often you think you have done so only to find it has not been set, these to me are more important on FM as you have to remember the frequency to tune manually. With DAB you always have the station name and most will remember a station name better than a frequency such as 105.4, not easy to set up.
While this is not a high end unit I have seen other units at a similar price point that offer more functionality and perhaps most importantly better sound quality. Having only Mono is not to me vital (you can get stereo if you use earbuds or headphones) but the speaker on my unit did not deliver as good a sound as I expected it to.
The Nevada Sinfonie II is available from the link below for £39.95 with free delivery.
http://www.amazon.co.uk/gp/product/B003QFQDEI?ie=UTF8&tag=gadge0a-21&linkCode=as2&camp=1634
http://www.nevadaradio.co.uk/dab-radio/dab-radios/nevada-sinfonie-ii