Pure Evoke 1S 'Marshall Edition'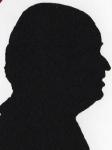 Get used to it as it will not go away Christmas is coming and this rather special DAB radio would make an ideal gift based on the Evoke 1S it has a rather high quality finish and look. This is certainly a gift that will be in constant use.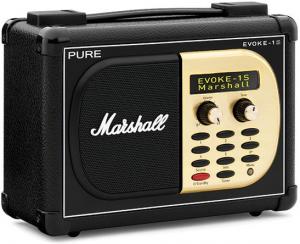 click image to enlarge
It is 21x8x15cm and weights 1524 grams.
The top has a nice solid grab handle but unless you purchase the optional 'charge pack' that allows it to be run on batteries I doubt it will move around much. The top also has 65cm seven piece rod aerial gold in colour. Overall the unit is covered in black leather with the corners having black plastic padding for extra protection.
Both sides are clear as is the base apart from four chunky feet. The back has the entry point for 'charge pack' as well as mini USB, Auxiliary speaker socket, earbud socket, stereo outlet and auxiliary input and the DC input.
This leaves the face the left half is taken by the single three inch speaker with 'Marshall' emblazoned on it in white writing. The right half – gold in colour – is topped by the two line yellow on black display, below this two knobs for volume and tuning. Finally three columns of oval lozenge type buttons, the top three rows are black with the bottom row being red (standby) black (timer) and a large LED. The line above is Source (Auxiliary, FM, DAB) Info choice of five second line displays, finally Menu which has a total of six different sub menus activated via the tune button. The top two rows are numbered for you to set and access the possible 30 presets available over DAB and FM.
On first switch on it will Autotune and my unit found 60 channels on DAB. The tune knob clicks nicely as you move through all the choices in alphabetical order. FM search often has you reaching for the volume knob to deaden the static between stations. Here you hear very little and it alto moves automatically to the next station.
Presets are easy to save and the top five choices are available via a single button press choices six to thirty require you to access a scroll menu however I suspect most listen to five of less stations on a regular day to day basis.
It of course has an alarm and this can be set to any of six options, daily, weekday, weekend, Saturday, Sunday or one off. The choices to be woken by any FM or DAB station of your choice or a very persistent tone.
For those who use this unit in the kitchen it has a countdown timer to save your baking being burnt offerings. There is also a sleep timer with settings from 15 to 90 minutes available.
In most cases the clock will auto start when you give the unit power (standby will do) however in exceptional cases like poor reception you can manually tune it.
All this and more are in the well written and illustrated sixteen pages of the Owners Manual that are in English.
Yes it is on mono but the tone is excellent and I suspect it will be used in places where you are likely to moving around (such as a kitchen) or where you are not strictly speaking paying 100% attention so mono is fine.
If you want a lovely looking quality DAB/FM radio then this Evoke-1S Marshall unit is certainly the cream of the crop. However it is now hard to find and was never that cheap.
Doing my Internet searches found it at a best price of £199.75 from the first link below.
http://www.amazon.co.uk/gp/product/B000NJXZSW?ie=UTF8&tag=gadge0a-21&linkCode=as2&camp=1634
http://www.pure.com/products/product.asp?Product=VL-61402&Category=