Dualit Radio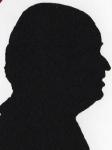 This is a DAB/FM radio that comes in chrome and looks rather like a toaster. Not simply looks like a toaster but the brand is more famous for kitchen equipment like toasters.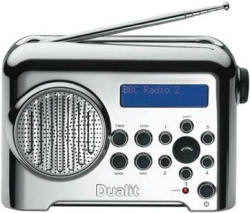 The DualIt Lite DAB radio is 22x16x8cm, it can be run either from batteries or mains. It has a 66cm six piece rod aerial that folds out from an indentation in the top that looks exactly like the hole that you would insert bread in.
The back has a very tight entry point for batteries and if you use rechargeables there is flip a switch in the compartment it can recharge them in situ while still listening from the mains.
There is an indentation in the base to allow some sound to escape into the desk or work surface it is placed onto. The main part of the speaker is on the front occupying a circular 8cm area on the left of the face. Should you prefer stereo plug in earbuds or headphones into the 3.5mm socket on the right side that also has the black rubber volume knob and entry point for the A/C adapter.
Apart from the speaker the front has two rows of five buttons all with the black rubber covering as well as a rubber tuning knob. Below these are a red LED when charging is taking place and the on/off button. The front is completed by a two line 8x2cm white on blue 32 character display (16 on each line) for longer messages this will scroll.
Before first switch on extend the rod aerial. Plug into the mains (or fit batteries) and before switching on the display lights up saying clock not set, this is normal with most of these types of radios however within a few seconds this is replaced with the correct time and date, natty.
Switch on and press the scan button, in my case it found 54 DAB stations which is about normal in my location. The nice feel on the tuning button makes it easy to quickly move through all the stations, then when you find what you want press the tuning buttons and you are listening to your station, it also helps control should you have wet hands. There are ten presets available in DAB mode.
Pressing the Band button switches to FM and here the ten available presets come into their own as remembering your stations frequency needs a good memory and moving through from one end of the FM band to the other can take a while. A nice feature is that in most cases when you have tuned to a station the top line of the display shows the station name and not the frequency, some other units do this but the majority do not.
The twenty four page well illustrated manual will get even a total novice up and running.
I was quite surprised that when run on batteries it loses alarm functions, this could be a problem for those who live in areas with frequent power cuts. Removing power did not seem to remove presets. Most recent similar units seem to offer more than one alarm, here your choice is once, daily, weekdays, weekends or off. There is a snooze setting but this is set to five minutes.
Other times are sleep (up to two hours) and egg - surely kitchen would be a better explanation - as it goes up to 99 minutes.
It supports RDS and DRC functions when supported by the radio station. As far as I can tell this is the second DAB/FM offering from Dualit and I am pleased to say this is considerably cheaper than their first.
Doing my Internet searches provided a price of £81.33 including shipping from Amazon :
http://www.amazon.co.uk/gp/product/B001CK92NS?ie=UTF8&tag=gadge0a-21&linkCode=as2&camp=1634