Navman S30 Sat Nav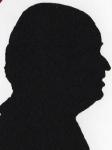 After looking at Sat Nav's that have all the bells and whistles it's quite refreshing to review a unit that has one aim to get you from A to B. Some extras are missing but some things you might think of as extras are included at a reasonable price.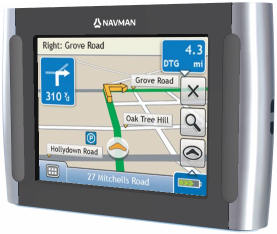 Intended for use in the car (the only charger provided is the one for a cigar lighter) a standard mini USB to USB will charge it in less than four hours. I always test it on trains and or buses as well as in a car. Unless you are a passenger you cannot really look at the screen of the unit and while travelling in a bus or train gives you that opportunity.
While this unit does not have specific special modes (no pedestrian mode) it does give clear audio and visual instructions. It is 11x7.5x2cm and would easily fit in a pocket. Of course it is provided with a dock to stick on a windscreen and as stated a lead for a cigar lighter. However much to my surprise I have used it all day during my travels on public transport and in several meetings. If you give the on/off button located on the top left a touch it blanks the screen and when touched again it takes not long to find the satellites and you can travel on. If you press the on/off button for around five seconds it is turned off and you have to go through the startup procedure including resetting various criteria. In continuous use I got just over four hours without power.
Once satellites are found you get a map screen showing the immediate location and in a built up area that would probably include maybe six or so named nearby roads as well of course as the road you are in. It also tells you (fairly accurately) the number of the road you are at along the bottom of the screen. Top right is a clock that keeps time even when the satellite signal is lost. Tap this and you get your current speed. Lower down on the right side is a magnifying glass that allows you to zoom in and out, below this is choice of map style and right on the bottom of the right side is a choice of icon the default is the direction shown as one or two letters IE N or SW. However you can choose to see the satellite strength between one and four bars, I found one still gave good instructions and while I saw four rarely it was not a problem. Unlike some other units there is not a satellite screen that would display the total number of satellites are their location. You can also have battery state (only of use when out of the car) and volume level. The only other option is the main menu bottom left that goes to two screens of six icons each and almost everything can be set from here.
This unit comes with UK and Ireland maps. My Home, easy to set either by road name or postcode and number. Favourites ideal for journeys you do occasionally. Recents, showing places over the recent past that you have visited. Map takes you to where you are. Address lets you plan a journey. Your first point of call is to select UK or Ireland, then you can select City/Area, Postcode, Street Address or Intersection. Just imputing the road name will often give lots of choices but just scroll down till you find the town then your only other choice is 'centre of street' or to enter a number. Once you accept that you get a few more icons top of the screen what to do at the next junction, just under that the distance in yards and an arrow. Top right of screen now displays DTG (distance to go) but this can be TTG, speed, ETA or the clock. There is also another icon an 'X' allowing you to cancel the route.
The other icons are POIs lots of innovative choices here, food, SOS, Fuel, Tourist, Parking and Preferences. A few words about the latter you can have either a male or female voice (few offer both) you may have kilometres if you wish. Speed cameras both static and mobile are included (colour coded) and you can e warned if you are exceeding the speed limit.
This is a very nice Sat Nav for a not huge price. There is an SD card slot should you need other maps.
Doing my Internet searches found the Navman S30 at a best price of £83 including free delivery from the first link below, brilliant value for a basic unit.
http://www.amazon.co.uk/gp/product/B000UX728A
Doing my Internet searches found the Navman S30 for €158,50 including free delivery from the first link below, great value for a basic unit.
http://www.amazon.fr/gp/product/B000UZ5YGA
http://www.navman.com/Navman/Templates/productinformation____69525.aspx