SuperTooth Voice handsfree kit

Published 21 Jan 2008 Author
petew
You still see a lot of people making calls from their mobile while steering with their other hand. This is now of course an offence in the UK. The answer is a hands free kit. Until recently these have involved installation of a wired device and was not cheap.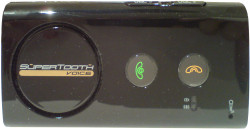 Recently though BlueTooth - the short range wireless standard - has come to the rescue with a number of solutions. The simplest of course is to use a BlueTooth headset. These often not geared to car use - and of course you have the problem of looking like a berk.
The alternative is a BlueTooth speaker phone. There are a few on the market and here I'm reviewing the 'SuperTooth Voice' product. This is a small device measuring 12x6x2cm (WxHxD) that is intended to be attached to the sun-visor of your car. To make this really simply the rear of the device has a couple of very strong magnets that attach to a provided metal clip that slips onto the visor.
A very clear 'A4 quick start guide' is included that covers most things you'll need to know/ For more information there is also more detailed manual, which also covers the less common functions on the product such as resetting to factory defaults.

The SuperTooth is provided with a car charger for the accessory socket - but the power input is a standard USB connector so you can charge from your computer or from a standard USB charger.
Sound is produced through a good quality 4cm speaker. As well as providing you with a sound source for your call, voice is also used for all prompts so the device doesn't need a control display. When you first switch on the device you're asked to select a language. It steps through a selection of six languages. A rather nice touch is that you're given the choice of 'British English' or 'American English'.
Once you've selected the language you move onto pairing with your phone. This was straightforward and worked without a hitch using my trusty Sony Ericsson K800i. Once attached the SuperTooth device attempts to download your address book. For some reason this caused my phone to prompt me with 'bluetooth device wishes to access your phone as a modem' - which I think is misleading, but I did wonder whether it was about to attempt an internet connection. It did not. I had no problems with the phone auto-pairing with the speaker when bringing it into range - everything worked very smoothly.

The reason for this connection was to download my phone book to the speaker phone. This may sound a little odd, but it allows the phone to announce incoming callers by name. When a call is received, instead of reading out the raw number, for those numbers in your phone book, you are told the actual caller. I was pleased to see that after the initial download, changes to the phone book were automatically synchronised to the speaker phone.
Cars are obviously very noisy environments and so there is more to developing a speaker phone than putting a loud speaker and a microphone in a box. Quite a lot more. In the case of the SuperTooth, there is a built in processor (DSP or Digital Signal Processor) that takes care of echo-cancellation, so your own voice doesn't echo back at you.
The device has minimal controls. On the front next to the speaker is are two main buttons. The first being 'a multi-function button' - the other allowing you to end or reject calls. To the top of the unit are a volume up/down pair. Now the last thing you want to be doing while driving the motorway at 70mph is pressing buttons so you can answer calls simply by saying (loudly!) 'accept call', 'accept', 'answer' or 'ok'. There isn't a way to reject a call using voice - you either let it ring or press the reject button.

The SuperTooth device is also fully integrated with a phones voice calling function allowing you to make calls without having to manually dial. To do this though you will need to press the call button once before using your programmed voice tag.
Apart from being useful on the move I also found the SuperTooth made an excellent hands-free speak phone for the office - allowing me to type and talk at the same time. Although my phone has this capability the SuperTooth provided much better audio quality.
Standby time is a claimed 800 hours, which is about a month, while talk time is around 15 hours.
The SuperTooth Voice hands-free speaker phone is available from a many suppliers, including Amazon where it is priced at £44.99 including shipping, which is significantly cheaper than having a traditional hands free kit wired installed in your car.