Bush DAB System TR2005Pink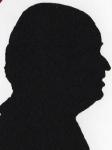 Probably something to appeal to ladies as it is pink. This unit looks like a portable radio of a generation ago with the exception of the LCD display on the top.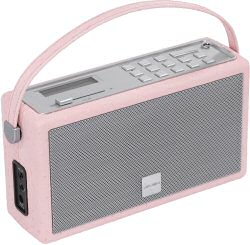 It is 29x15x8cm it is pink and silver so as stated probably suitable for only 50% of the population. It can be run from 6x 'C' cell batteries but this would substantially add to the weight and of course the cost. Unlike some other DAB offerings it cannot be run from a battery pack that can be charged in situ. So mains use will be the main use. It can be used as an Alarm Clock (when run from mains) and there are a number of other useful features.
The left side has three inputs for earbuds, line out and the power input. The base has a slide panel to insert the optional 6x 'C' cell batteries. Everything else is on top. There is a 40cm (8 piece) rod aerial on the right top edge. This is small by the length of aerials when DAB first arrived but the technology has improved and I found this quite adequate. It can also swivel on the base fitment something early aerial could not do.
There are a total of 14 buttons in 3 rows of five with the on/off one being double sized. So easy to find in poor light. The left of the top has the LCD two line display however when off (running from mains) it will display a LCD clock over both lines. Below this is a volume slider, on the face of it this may seem strange with everything else push button, however it does have the advantage of you being able to turn sound right down before turning the unit on, whereas other units start at whatever volume was last used and this could disturb others.
On first switch on it does 'Autotune' and it found 49 channels. However it only shows the various multiplexes (in my case four) it finds during the scan. At the end it displays the first station (alphabetically) it finds. A slight difference from other such units I have used.
This brings me to another difference it also has an FM band and the tuning hear starts close to the middle of the band meaning if your favourite station is at the top end of the band you can find it quicker than if the more normal start at the bottom of the band was used. There are five presets for DAB and the same buttons give five FM presets. Everything I have said so far can probably be found without even opening the 25 page user guide. As always if this is to be your first DAB radio check your likely reception by entering your postcode at www.ukdigitalradio.com
The manual holds few surprises, it does list how to display different information on the LCD display second line. The first line always displays the name of the station and DAB (when appropriate). There is a choice of seven different second lines, DLS scrolling text, PTY program type, Multiplex name particularly relevant if you move around the country as certain Multiplexes are regional. Time and Date, Channel and Frequency, Signal Information and finally Signal Strength. With FM you just get the top line used showing Frequency and FM. A little disappointing as at least one other DAB/FM unit I have seen shows the actual station even on FM. However you can force Time/Date on line two and either Mono/Stereo.
As stated you can have a basic Alarm feature and be woken by the radio station of your choice or just a 'Beep' tone. Some units have multiple alarms but I guess for most one is enough and maybe just do not set it for non working days. You can of course also have a 'Snooze' setting allowing you to wake up a little more slowly. However there is no Sleep Timer. There is however a Bass Boost for those you enjoy richer bass sounds.
If you overlook the colour - something a mere male always struggles with - then this is a good basic but solid unit. Doing my Internet searches found it at £50.26 including delivery. Next day is possible but at a higher delivery charge.
http://www.ebuyer.com/UK/product/119485