Motorola Moto E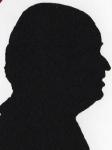 The latest entry level phone offering from the company that first brought you a SmartPhone at a price that broke through the glass ceiling. Here is a smart phone that has corners cut to produce something acceptable at a lower price.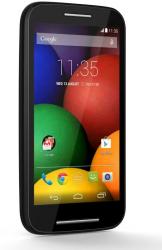 click image to enlarge
12.5x6.5x1cm are its dimensions and it weights 141grams.
A well placed fingernail will remove the back to allow you to insert a micro SIM and a micro SD card. However the battery is not user changeable and is a little less powerful than most at 1980mAh.
The right side has the on/off button and the volume up/down rocker. The base has a micro USB slot for charging, the right side is clear and the top has a 3.5mm socket for headphones or earbuds and also a quite sensitive microphone, finally the rear has a 5MP camera. You can also capture video.
It comes with the latest Android 4.4.4 and the micro USB slot will also accept an OTG device.
It has a 4.3inch screen which has gorilla glass; this size is determined by measuring from corner to corner. The display is 960x540 pixels which is clear and easy to read in all but the strongest direct sunlight.
I found it worked well on Wi-Fi and it does have the latest V4 of Bluetooth so all those devices that require low power Bluetooth should now work.
While I am told the unit is available in white mine was black which is fine by me but for some reason it comes with a white one metre micro USB to USB lead. Should you be in market for different colour backs a range are available as additional extras. A check on the link at the end can see some of the colours available.
The only other item in this rather small box is a 14 side 'Let's Get Started' guide that covers the basics and should get even the novice up and running.
The Moto E comes with Qualcomm Snapdragon 200 with a 1.2GHz dual-core A7 processor with 1GB of RAM and 4GB of internal memory so again less generous but remember this is at a very low price so every little bit saved helps keep the price lower.
You need a three second press of the 'on' button to get it to spring to life and you wait around 30 seconds before you are able to use it, probably why most never turn their phones off, however you should easily get a normal days usage out of the battery between charges.
It you want a Smart Phone but don't have the money for all the bells and whistles this does cut a few corners but most of what matters is still available.
I found the Motorola Moto E SIM free for £89.95 with free delivery.
http://www.amazon.co.uk/gp/product/B00KB0YD8Y?ie=UTF8&tag=gadge0a-21&linkCode=as2&camp=1634
http://www.motorola.co.uk/consumers/mobile-phones/Moto-E/moto-e-gb.html