Moto G goes 4G

Now that Motorola has launched its Moto G 4G, users will be able to choose between the 3G and the new 4G version. It is an upgrade to its existing 3G version -- a powerful Android smartphone which has already attracted a great deal of attention because of its performance and value for money and which has already become the phone of choice to many who have been deterred by the high prices of other smartphones.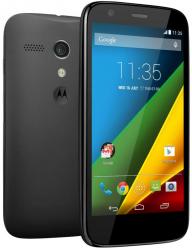 click image to enlarge
The new 4G weighs just 144g, is available in both black and white, and is the same size, 66 x 130mm, with a thickness ranging from 6 to 12mm because of the back is curved to enable the phone to sit comfortably in the hand. The 3.5mm headphone jack is at the top and the microUSB port on the bottom edge while both the power and audio buttons are on the right hand side. The (non-removable) 2070mAh battery is claimed to provide up to 24 hours of mixed usage. In practice, charging overnight, I never experienced any lack of power.
Although the Moto G and the 4G are essentially the same in design with, for example, the back shell from one version able to fit the other, it appears that there has actually been a significant engineering update to the 4G unit as it now can accommodate up to 32GB of added memory, in addition to the 8GB built-in, with the microSD card being inserted where the SIM is sited on the ordinary Moto G.
These phones have not been made down to a price. They have a 4.5inch toughened glass scratch resistant 1280 x 720 HD display which extends from edge-to-edge with very narrow bezels and, in general, are well built. As a result they are unlikely to suffer from that superficial damage which detracts from appearance, even if not performance.
The 4G runs on the current Android operating system – version 4.4 KitKat – and is built around the Qualcomm Snapdragon 400 processor with 1.2GHz quad-core CPU with 1GB RAM. This, in conjunction with the Adreno 305 450MHz graphics processor, ensures adequate performance to handle 4G video streaming and display. Even though the 4G phone also supports the lower network speeds, getting emails, browsing the web and using Google maps now become much faster with 4G when it is available.
Bluetooth and WiFi are incorporated and the phone can be used to provide internet connectivity to a nearby laptop or tablet computer by going into tethering & mobile hotspot.
There is an LED flash for the rear camera which has a resolution of 5MP in its 4:3 mode and 3.8MP in its 16:9 mode and can be used for stills or HD video. Just tap the screen to take a picture. The front camera is 1.3MP. Other facilities include GPS and an FM radio which uses the cord of wired headphones as the antenna.
Overall, the Moto G 4G is a useful solidly built phone that incorporates the features that we have come to expect in an Android phone and so will not disappoint. Being 4G, is reasonably future proof so that, with a list price of £159.99 but is available on Amazon for £156.59, could well be a sensible buy for someone who wants a SIM free phone.