Alcatel's 4G starter phone on EE

The Alcatel One Touch Pop S3, available on the EE network as a pay-as-you-go phone for £79, is one of the cheapest – if not the cheapest – available 4G phones. It is an entry level phone that will meet the needs of a great many people at an acceptable price.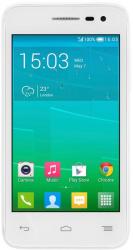 click image to enlarge
To be able to offer it for such a budget price it is obvious that Alcatel has had to look very carefully at the design and has had to cut corners. The 480 x 800 pixel screen is not over bright although it is perfectly adequate for most applications and its limitations are only apparent when one is actually comparing it alongside a more expensive phone. The 5Mpixel camera is fixed focus even though there is built-in flash – something missing in some other low priced phones.
Nevertheless, overall, the result is a more than just acceptable. It has a 4 inch screen and a quad core 1.2 GHz processor which enables it to offer very reasonable performance and the internal RAM can be expanded by means of the internal microSD card. It runs on Android 4.3 though, currently, there is no available upgrade to 4.4 Kit Kat.
It is roughly 125×65×10 mm and weighs about 125g and is supplied with three interchangeable back covers: dark steel blue, white and yellow each of which contrasts nicely with the light grey front of the phone. Although of a polished plastic material these covers did not feel too slippery and, in fact, felt comfortable in one's hand. I would, by the way, have preferred a flip cover but that was obviously not feasible at the price. These covers can be removed very easily in order to swap them or to expose the (full size) SIM and microSD slots and the removable battery.
It is claimed that the 2000 mAh battery will provide up to 400 hours standby and talk time of up to 12 hours. In reality, I felt that the standby time was optimistic but this could have been due to the number of applications being open.
As well as there being the usual range of Android apps, there are a number of others such as Amazon, Amazon Music, Amazon Appstore and a number of games which I suspect are designed to lure the user into the chargeable add-ons. In addition, there is business-orientated OfficeSuite from MobiSystems. As there are prompts suggesting that one should upgrade it to the Pro version it is difficult to tell whether the actual installed version is just a viewer for MS Word, Excel etc. files or whether it is a full version with which the user can actually work with MS compatible files.
The quick start guide is more informative than that provided with a great many phones and is thus ideal for those new to smartphones. It is a 42 page mini manual 11 cm x 6 cm in size. Not only does it provide useful information about many of the applications it also provides two pages of diagrams of the icons and giving the appropriate explanation of their significance.
Having an up-front cost on EE of just £79, plus a £10 minimum top-up, this is a very useful entry level 4G smartphone as it will provide fast web browsing as well as the sending and receiving of images even though the user must appreciate that it is important to keep an eye on expenditure as 4G eats up data allowances quite hungrily.