Binatone Brick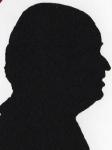 Those of us into our forties or more will remember mobile phones like this in fact some even came with a brief case for the required battery. Here this tongue in cheek offering can be used for real or as a Bluetooth offering, however used it will be a talking point.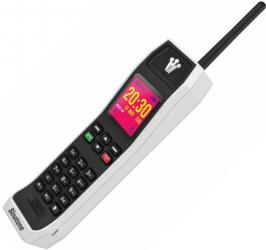 click image to enlarge
The first main difference is the weight 208grams. I can't exactly remember what my first unit weights but it was a great deal more than that. 20x5x4cm without the dummy aerial that adds another 7cm to the first figure.
The display is 3.7x2.8cm and in full colour, six lines of display and the keypad below is also backlit.
The keypad has a total of 21 keys, two rows of three keys a small gap then five more rows of three keys all well marked with white numerals on black, the keys themselves are 1x.5cm.
The top of the unit has an extra that the original units did not have a torch.
The base has two prongs in recessed holes that would have formed the charging method. Look closely at the right side just above the base and a micro USB socket is revealed a cable is supplied so you can charge it by a standard USB port or by a provided 13amp plug to USB.
The back removes to reveal a modern sized battery 5.2x3x.5cm in a bay 7.5x4x1cm, the battery is held in place by a plastic clip.
You may ask why the battery was not made to fit and the box explains this as there is an option of an 'XXL' unit which is 5200mAh as opposed to the 2000mAh of the standard unit. I assume then that the plastic clip is redundant.
When the battery is removed you can see a standard SIM card slot and also a Micro USB slot.
It works as a phone which can be used for making and receiving calls. Certainly anyone using one will be noticed and it will be a talking point.
You can also send and receive text messages using the numeric keypad.
It can also be used as a link to modern unit via Bluetooth. You can access the contacts via Bluetooth. It can also store up to 300 contacts on the Brick.
The stated standby time is 'up to one month' and the talk time 'up to 14 hours'.
You can play music – stored on a micro SD card – through the units back facing speaker.
The Bluetooth works with both Android and IOS devices.
Certainly a gimmick but as there are a generation who never used the original large sized phones it could be popular. Some may only use the reasonable speaker via Bluetooth and use their own phone, it will still be a talking point.
There is a sheet folded into eight that forms the Quick Start Guide that should answer all your questions.
Certainly something the younger generation may like but those of us older one who remember the older units like no heating in the house and outside loos will probably not be in the queue to purchase one.
The Binatone Brick is available from the link below for £44.44 with free delivery. It should work on any network with a standard size SIM.
http://www.amazon.co.uk/gp/product/B00GN88E42?ie=UTF8&tag=gadge0a-21&linkCode=as2&camp=1634
Now only £29.80 so nearer an impulse buy.