Kodak EasyShare Z1285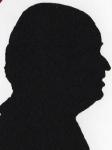 A 12MP mass market digital camera is still rare, a 5x zoom one even rarer, this offering from Kodak is both. Even with both those advantages it looks like a standard small digital camera.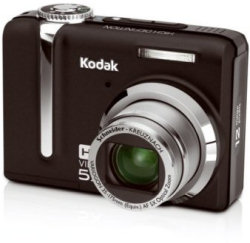 This is a very dark grey unit with a silver flash and silver ring round the lens, it is 9x6.5x3.5 when switched off. The 3.5cm width doubles when on full zoom. It weights around 175grams.
For a camera with potentially so many plus points to find it is powered by two 'AA' batteries is unexpected.
This is an HD camera and thus you get no less than nine different shooting modes and not just the image size varies but also the ratio so the top is 12MP (4:3) then 10.7MP (3:2) 9MP (16:9) 6MP (4:3) 3.1MP (4:3) 2.2MP (3:2) 2.1MP (16:9) and finally 1.2MP (4:3). There is some internal memory enough to capture 15 images at the top resolution. It also accepts SD cards.
Going round the camera finds the lens and flash (1.5cm directly above the lens) on the front. The left side is bare while the right side has the door behind which is a mini SD socket and the SD card slot. The base has the entry point for the two 'AA' batteries, connection for the optional tripod and also the Kodak fitment sleeve connection should you use a Kodak printer to print your images.
The top has three well labelled buttons and a seven position wheel with the shutter release in the centre. The wrist strap is on the top right corner of the camera. This leaves the back that is dominated by the 5x3.8cm TFT display, to the right of this is the telephoto wide angle sew saw button five other well labelled buttons and the ubiquitous five position joystick.
I took some images in all the resolutions and although I was meant to have a Kodak printer during the test period it was delayed so the Kodak dock went untested. The majority of the images taken and printed with other printers were taken at 6MP and I was able to print a portion of the image at A4 without any sign of pixelization. Most were printed on a remarkable Canon printer (review to follow) that prints an A4 borderless print in just over a minute, wonderful prints helped no doubt by the Schneider lens on this camera.
As stated 5x optical is still rare on pocket digital cameras that's a 35mm equivalent of 35-175mm. Of course this can also take video and indeed as stated HD video 1280x720 1min 25second 640x480 1min 34seconds and 320x240 4min 15seconds would fit on the internal memory. Images were good and even in less than perfect light definition was still acceptable.
Certainly a case for a good sized SD card. My normal rant about cases and SD cards being supplied applies, a one GB SD card costs well under a fiver and a soft case would protect the TFT in the pocket or bag and the cost to manufacturer would be say 50p but of course the reason why they are not supplied is because the large chains want to sell their own at a huge markup.
Battery life was poor but I am pleased to say that the terrible flash on an earlier Kodak camera has not reappeared here. I see there is an input point for a DC adapter below the door for the SD card so a solid rechargeable battery must be at least an option somewhere in the world.
Doing my Internet searches found the Kodak EasyShare Z1285 at a best price of £113.90 including delivery from the first link below. Say another £10 for a couple of cards and a case and you have a reasonable camera with some nice features. But be prepared to use a lot of batteries.
http://www.purelygadgets.co.uk/showproduct.php?prodid=22771
http://www.kodak.com/eknec/PageQuerier.jhtml?pq-path=12442&pq-locale=en_GB