Prestigio Android Multiphone 5430

The Prestigio Multiphone 5430 is a competitively priced Android smartphone. It is being launched into the UK market to capitalise on the recognition achieved by the brand with its range of tablets over the past year or so. It has a 4.3inch display and 8MP pixel camera and is targeted at those users who want the flexibility that an unlocked phone brings in the increasingly competitive tariff jungle.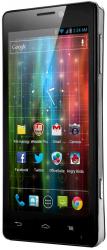 click image to enlarge
Prestigio is a brand of the eastern European ASBIS group which launched the 5430 in its home markets in June and so there has been the opportunity to get over teething troubles (if any). There are not likely to be many in view of the fact that the phones are manufactured in China by the BYD Precision Manufacture Company which is no stranger to the mobile phone business.
The phone is 126 x 65 x 10mm and weighing 140g and is supplied with a slip case which provides a reasonable degree of protection. The back is removable to gain access to the SIM and microSD slots as well as the replaceable 2000mAh lithium battery.
It runs Android OS Ice Cream Sandwich (4.0) which, in due course, can be upgraded to Jelly Bean (4.1) and is based on a 1.2GHz Intel Atom processor which I found was fast enough for my usage in terms of loading and running apps. Very small text on the 960 x 540 pixel resolution screen was very readable and it should be OK for HD videos. However, I found the choice of screen wallpapers rather garish even though one can readily get others. I did find it a nuisance that it is difficult to see the Home and other keys at the bottom of the screen.
The 8Mpixel camera had a useful zoom and a reasonable range of features and was easy to use – including switching from front to back cameras. It was claimed that the back camera is able to shoot at up to 8 fps.
As well as the usual range of apps there is OfficeSuite 7 pro from Mobile Systems which includes WP, spreadsheet and presentation and an English dictionary plus, usefully, a reasonably extensive user guide. It could be used with voice input but, I suspect, that needs a fair amount of practice to make it really useful.
The Installer Prestigio gives convenient access to a range of third-party apps which can be downloaded. These included Skype, Twitter, Facebook and Google Translate as apart from those that can be obtained via Play Store.
There are, apparently, quite a number of free books which can be downloaded for the on-board eBook reader as well as those commercially available.
The overall impression is that the makers of the 5430 set out to achieve a versatile and workmanlike smartphone that would meet most people's needs. That, they seem to have done. At £199.99 from Maplin and elsewhere it is a competitively priced unlocked phone and offers a realistic alternative for those who are not swayed by the fact that it is a relatively unknown brand.