Handy iDect Solo Plus Dect Phones

While long-established company Binatone is well known for its phones and related products, not many people are familiar with its designer brand, iDECT. With its recently introduced iDECT Solo Plus the company has taken a fresh look at the way things were done in the past and has produced a versatile and easy to use DECT phone with built-in answering machine.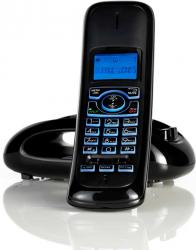 click image to enlarge
These phones are available in black, white or red and the curved 19.5cm long handset is of a comfortable size and shape. Whereas most DECT phones are designed so that handsets stand vertically on their docking/charging stations, with the Solo Plus it lies neatly on top of it. Consequently, just like a traditional phone, it is a natural fit in one's hand when picked up.
The phone uses standard rechargeable AAA batteries which are claimed to give up to 13 hours talk time and 230 hours standby although this may be reduced when the speakerphone on the handset is used. The answer machine gives up to 30 minutes record time and, when there are new messages, a green LED on the base station flashes. While messages are replayed the date and time of each message is displayed.
Entries in the 100-name and number phone book can be scrolled through. The search for a particular number being sped up by keying in the initial letter of the name. This can be done conveniently even in poor lighting as both the keyboard and display are backlit. If one wants to carry the phone around in one's pocket, it only takes a moment to lock the keyboard by holding down the Star key. The keyboard can then be unlocked by either pressing the Star key again or placing the phone on its dock. Calls can be answered, however, even with the key lock on.
The intercom facility can be used with the dual or triple handset version of the Solo Plus -- but obviously not when there is only one handset. Although the instruction book says that the phone will work at up to 300 metres outdoors and 50 metres indoors from the base station, there is the caveat that the distance could be reduced by any obstructions such as walls or refrigerators. In practice, without any difficulty, I got well over 30 metres down the garden with a number of house walls etc. in the way.
While many "designer" products are styled just for the sake of being different, I found the phone convenient and easy to use even though the print in the A6-sized instruction booklet was a bit too small for comfort. This made it just a little harder work out how to access the full range of features.
The single, dual and triple versions of the iDECT Solo Plus can be found on Amazon with prices ranging from £28, £40 and £60 respectively.