SmartPhone Speaker Dock by iLuv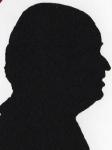 Is your SmartPhone charged by micro USB? If so then this stereo speaker dock can allow you to listen to music while you are charging your phone. So just for a change the iLuv MobiDock is not an iPod dock but one designed for those with SmartPhones.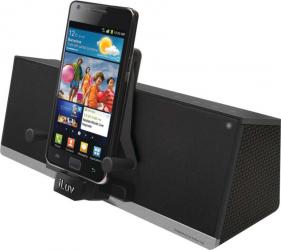 click image to enlarge
It measures 24x14x11cm, the middle figure is at the centre of the unit where the SmartPhone dock is at the sides its only 10cm.
When you look at it you think you are looking at an iPod in situ as the dock has a back that stretches up by 3cm above the speakers. However investigate more fully and the arms stretch from 5cm when at the bottom to 16cm at their height (horizontal) and the small micro USB charging connector swivels through 180 degrees.
So you can charge items that are side mounted as well as those that charge from the base. The other thing is some units require backward rather than forward insertion so the rotating connector makes this possible, the slide on which it is mounted moves along a track 10cm long so almost all smartphones are catered for with the adjustments.
Unlike an iPod dock which charges and plays this works differently as the dock itself can only charge but there is a door behind the dock that contains a hard wired 20cm 3.5mm lead so you can plug in any device as if it was to headphones or earbuds.
Although it was not primarily designed for this purpose I managed to charge one device while playing output from another.
Currently I am reviewing an 8inch Android device and the arms will not quite stretch enough to charge this but I suspect a small modification would easily be possible as the amount too small is less than 2cm, in theory an easy modification but that is one of the very few drawbacks I have found to what is a very useful tool.
On the top edge towards the right side are just four control buttons, play/pause, volume down, volume up and on/off.
Sound quality is always a subjective thing but it is certainly better than either the inbuilt speaker of the smartphone or earbuds and most headphones.
The rear of the unit has the input for the 5volt DC power supply on a 1.8metre lead ending in a small plug bottom power brick.
There is a small well illustrated Quick Start Guide that should cover any questions you may have. A far larger offering covers the warranty information, luckily there was not a thirty page guide telling you not to drop it in the bath and other such health and safety rubbish that most manufacturers seem obliged to need to include.
So for a small device it covers a gap in the market for those with a Smartphone, a small design change could also help those with larger Android devices, most seem to use micro USB, so if your device does you can play music while you charge your device without the need for separate speakers.
A novel device that does what it says and anything that does that is certainly a useful gadget and indeed an ideal present. Lastly it will charge a lot of the various Kindle devices around certainly the Kindle Fire and Touch.
The iLuv MobiDock iMM375 is available from the link below for £49.99 with free delivery.
http://www.amazon.co.uk/gp/product/B008B7QTRC?ie=UTF8&tag=gadge0a-21&linkCode=as2&camp=1634