Versatile Doro Phone with Sound Boost

The Doro wired Comfort 3005 phone, with built-in answering machine, is easy to use and has the features needed by the mature people who form a large portion of the Doro target market. It has an extra-loud facility, is hearing aid-compatible and is a hands-free speakerphone as well as having an easy to read high-contrast display.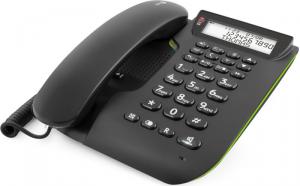 click image to enlarge
It is an attractive desk feature phone and does not advertise the fact that it aimed at meeting the needs of those whose hearing and sight are not quite as good as the rest of us. It has a footprint of roughly 190 x 170 mm, it is matt black in colour with numbers and symbols in white that stand out clearly. There is a vertical green line on the body of the instrument which is a Doro style feature. As one would expect from a product targeted at international markets symbols rather that words are used on all the buttons.
To make best use of this versatile phone it is necessary to subscribe to the Caller Display service offered by one's telephone company. Then, the number of an incoming call is shown in the display with the associated memory being able to store the most recent 50 numbers. A flashing LED on the phone indicates when there have been incoming calls irrespective of whether answered or unanswered and even when a caller has left a message on the answering machine. The total/new displays gives the number of incoming calls received.
Using up/down arrows it is an easy matter to scroll through the list to see phone numbers of the incoming calls. Where a number is listed in the phone address book, the name will be displayed in addition to the number. Then to return a call, just pick up the phone handset, or press the hands-free button.
The address book can store up to 99 names and numbers. Although it is a straightforward matter to scroll through the stored numbers, in use, I found it was slow in operation.
The recording facility is versatile and goes beyond being just an answerphone as it can also be used for two-way recording of telephone conversations as well recording a personal memo of up to 120 seconds on the answerphone. This is useful as an internal message or reminder for the person who will subsequently take messages off the answering machine.
As an answering machine it can be set to Off; Answer only; or Record and, in the latter mode, it has a total recording time of 27 minutes while in the two-way conversation recording mode it has storage capacity for up to 40 minutes.
For the hard of hearing it is hearing aid compatible and there is the 35dB sound volume boost. Neither of which I was able to test.
Overall, I found that it was a useful phone which, I feel, would benefit from better instructions. For example, it was not made clear that the Message Waiting Indicator LED only worked when the 3005 was connected to a PBX. Nevertheless, priced at about £48 on Amazon, many will find that it to be versatile and useful phone