Samsung Galaxy Note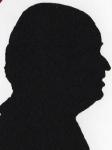 Review controls
In comparison to the tiny phones of not that long ago this Android offering is huge. But as a friend of mine said it can do 'everything I want' so I do not need a PC and if you are a light PC user then why not as the screen is huge.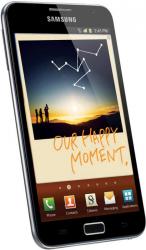 click image to enlarge
Overall it is 14.5x8x.6cm and the viewable screen is 11.5x7cm, this last dimension means a lot of screens can be viewed with no or very little enlargement even with my old eyes. The weight of this lovely item is only 180grams.
The one and only drawback I have found is that you will not get a full day of browsing from a single battery charge.
The right side has the on/off button, the base the micro USB connector for charging, the left side volume up and down rocker button and the top 3.5mm earbud jack. Just below the screen is the only visible button the 'Home' key.
There are two soft keys - invisible until you touch – back and additional items that rise up onto the base part of the display.
The Home screen has a line of tiny icons along the top which include Skype, battery state, Wi-Fi and other notifications. Below this a large digital clock with day and date to its right and below this Weather for your area.
Next is a Google search box and a Galaxy Note icon and finally two rows of five most used icons this is screen one. Scroll left to the notes screen, left again for your calendar (month view), left again for email, left again for bookmarks, and by default the last two screens are blank for you to add items of your choice but just above the base line of five icons Phone, Contacts, S Memo, Messaging and Applications are little balls with a number showing to denote your current screen. While some Ice Cream Sandwich (Android 4) phones are about I have yet to try one and this is Android 2.3.6, very easy to use and very rapid in its response to your actions.
A lot of phones now have speech control and while I am still getting used to not using my fingers it is very responsive to my requests after all you talk on your phone so no one is going to think it's strange that you are talking to it.
Motion control is another feature and something kids – even of my age – have used for years in games remember the pinball machines that you encouraged just enough before the dreaded 'tilt' message came up. Here you control enlargement and reduction in screen area without any fear of a tilt message; again it takes practice to perfect.
A pair of cameras the one on the face great for Skype calls and the like but the one mounted towards the top of the back – complete with LED flash – gives images that might just temp an old fogy like me away from a conventional camera. The unit also takes rather good movies so you can begin to see how this can do 'all you need'.
The beauty of an Android phone is that it has a huge base of Apps – almost as many at that of Apple – and the vast majority are free to download. Living very near London I find the apps that tell you when your next bus will arrive a great tool and I do not mean texting the bus stop to TFL. Things like Dropbox have long been important to me on a PC and now available for most Smartphones. This is just the tip of things to make it an office wherever you are.
So this unit with its Dual Core 1.4GHz processors and the bright, crisp clear 1280x800 screen alone should make this top of a very short list if you are in the market for the latest – and probably best – Smartphone currently available.
The Samsung Galaxy Note is available from the link below for £49.99 and £35 a month (24 month contract) with the 'Three offer which gives 'All You Can Eat Data' means you can always be available and in control.
http://www.carphonewarehouse.com/buy/SAMSUNG-GALAXY-NOTE-3N012-FCONH
http://www.samsung.com/uk/consumer/mobile-devices/smartphones/android/GT-N7000ZBAXEU