A LOUD Mobile Phone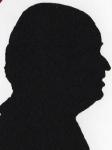 Review controls
Amplicon are better known for improving peoples hearing with devices and aids. Here they offer help from the other end by making a mobile phone with a high ringer volume and increased sound volume for the phones user.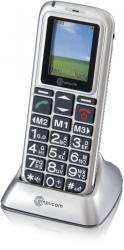 The company whose phone the Amplicom Powertel M4000 most resembles to me is Doro who do a lot for those with disabilities. Here Amplicon have a phone with big buttons and large text on the screen to go with a ringer that will wake almost anyone so those who are hard or hearing are well catered for. Often however a loud ringer on its own is not enough as the volume of the caller is still not increased enough, that is certainly not a problem with this unit.
From switch to finding your SIM cards network is less than 15 seconds, switch off is also very fast at less than 5 seconds.
Of course this is aimed at those with both sight and hearing problems and so will never be among the most popular phones as it's not trendy. However it looks fairly standard and can even be used with earbuds to look 'normal'.
The only visible connection is on the right side for earbuds. The base has a mini USB socket for charging on the battery. So just remove the back panel to insert your SIM card and the battery and then you are ready to go.
The screen is 2.5x3.7cm very bright and just large characters easy to read. There are a total of 21 buttons below the screen and while the screen is on these are illuminated so easy to see even in a totally darkened room.
You can make/receive both calls and text messages, while this is only a small proportion of what the average modern mobile can do so many more mature people only want the phone for calls and the occasional text message.
The screen will display only four lines of text at a time. That is eight or nine characters per line the characters are up to .5cm tall if you have poor eyesight this is something that means you do not have to squint at the screen or fight to get external light at the correct angle to enable you to read the message that would normally draw attention to yourself.
Yes if the phone goes off (without earbuds in) then this would certainly draw attention to you as the sound level is up to 100db. This is stated to be up to 40 times higher than that from a standard phone, it works in tandem with most modern hearing aids and the vibration it can give will help for those who turn off their hearing aids. I know several rather deaf people and while to a normal hearing person this action may sound strange it does occur. I myself have Tinnitus and while I can hear a single person talking to me its fine but in a room with a lot of people talking at once it starts to become a jumble as no conversation is clearly audible over the others. That several people have told me is what they find difficult and in a room full of people they give up.
There is also an Address Book, record of calls, Tools that have an Alarm, Calculator, Calendar and Stopwatch. Finally there is a Settings menu so you can easily tune the phone to suit your own personal problems.
The grey finish to the sides and back make it look just like a standard basic phone and those who have a problem often fight to hide it to have a more or less normal life this offering from Amplicom PowerTel M400 can help.
Doing my searches found the Amplicom PowerTel M4000 at a best price of £69.99 from the first link below. However if you are a member of their priority club you can save £15.
http://www.bootshearingcare.com/accessories/mobile-phones/amplicom-powertel-m4000