A Multi-Positioning Speakerphone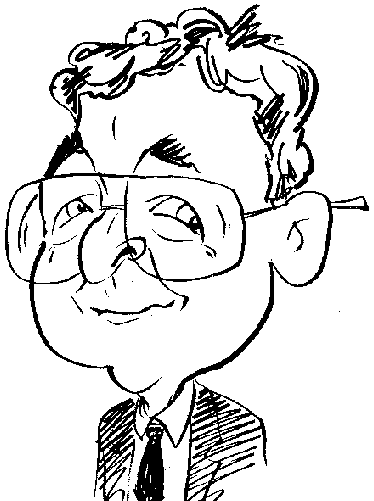 Review controls
A visit to one of London's tall buildings introduced me to a company that was expanding its technology originally developed for the automobile trade into the consumer sector.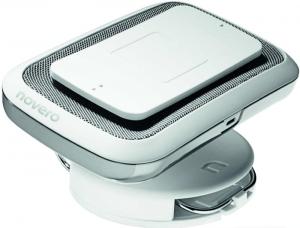 click image to enlarge
Following a management buy-out in 2008, the newly formed Novero company separated itself from the world's leading phone vendor (it did retain the same first two letters of its former home). Initially concentrating on developing connectivity, multimedia, telematics and hands-free telecommunication systems for the automotive industry (current clients include Mercedes, Bentley, Volkswagon and BMW), Novero has now branched out into the consumer marketplace with a range of Bluetooth devices that confirm to a similar naming pattern. One of these products is TheTalkyOne.
TheTalkyOne is a Bluetooth speakerphone that has been designed for use in a car, office or home environment. Similar in size (although admittedly bulkier) and shape to the iPod Classic, TheTalkyOne measures 107 x 65 x 20mm and is predominately Apple White in colour. A shiny silver band runs around the edges of the device and there is a collar of wired mesh circling the large single-touch button which sits on top of the unit.
Included in the box is a mini-CD containing an electronic version of the User Guide, sun visor clip, dashboard holder with three Velcro pads plus a couple of connection options for charging the speakerphone unit. As you would expect with a device that could be used in a car, you get a cigarette lighter type plug that can link to the supplied USB lead which also provides the means of powering the unit either in the home or office. You could opt to draw power from a computer or using an appropriate mains plug with a USB port.
Controlled by the single large button, your first task should be to pair the speakerphone unit to your mobile phone. This is a simple operation that should cause no problems. You can pair two different phones to the speakerphone so increasing its functionality.
Incoming calls will be announced with the caller's number or, if Caller ID is available, with the name of the caller. Calls can then be accepted or rejected in the normal manner. The same voice is used to announce when the device is being shut down either as a result of holding down the button for more than two seconds or a period of inactivity. While not unpleasant and having a clear delivery style, you are given no choice in the sex of the voice, which, incidentally, is female. You can adjust its volume level and also the volume of incoming calls. TheTalkyOne will also support other features, such as voice dialling, that are available from your mobile phone.
The use of TheTalkyOne enables anybody in the immediate vicinity to participate in a call. While the device has built-in noise reduction and echo cancelling technology, the audio quality of incoming calls was not quite as clear as that delivered by my current mobile phone. The difference was not great but just enough to be noticeable. As well as acting as a speakerphone, TheTalkyOne can accept and play music from your phone or Bluetooth enabled MP3 player but for many this will be a secondary feature used occasionally if at all.
When used in a car, you are given the choice of attaching TheTalkyOne to the car visor using the provided clip or the dashboard. When opting for the dashboard location you will need to slide the sun visor clip into the holder unit. This is necessary because the sun visor clip has the only means of firmly gripping the speakerphone unit. I prefer using the dashboard method as this does help alleviate any possible problem that could occur if you needed to move the sun visor so that it could fulfil its primary function. However you need to be aware that detaching the sun visor clip from the dashboard holder is not the easier task and does require a degree of force. Fortunately it is far easier to attach and remove the speakerphone to the sun visor clip.
From time to time software updates are expected to be made available. These can be downloaded to a computer and then be transferred to TheTalkyOne. You should be able to get up to 180 hours on standby with up to 15 hours of use either as a speakerphone or music streaming device. Pricing for TheTalkyOne has been set at £129.