Doro Devices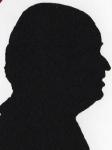 Apart from mainstream wired phones for home and office, Doro also do DECT phones. Recently their mobile offerings are becoming widely accepted for those with disabilities, first however a seven button remote control.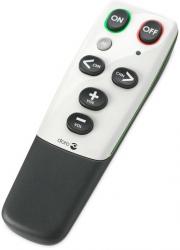 Doro HandleEasy 321rc
How can a remote control with only seven buttons replace a remote control with forty or more buttons. In short it can't but often the only controls required are volume up or down and channel up or down and this it can duplicate.
Most remote control replacements are almost as complex as the ones they replace, normally they work by entering a code number to make them a near (or exact) replacement to the remote that came with the TV (or other device) they are replacing.
You may want a replacement because the original is becoming faulty and in that case your best bet is to try the original equipment manufacturer. However if you require one for someone who is becoming a little confused by technology then this is ideal.
It works in a totally different way by you pressing the action you want to duplicate on the original control by pointing it at the HandleEasy 321rc. Sounds easy and in most cases it is. The HandleEasy 321rc learns the signal that the original unit sends to the device and programs itself to send that signal.
So lets say someone with a problem using a normal remote (often with tiny buttons) can easily handle one with a few larger buttons. Yes I suspect someone will need to do the initial programming but after that channel swapping and adjusting the volume can be carried out without any problems by the person with less control over their movements.
Doing my Internet searches found the Doro HandleEasy 321rc at a best price of £21.99 from the first link below.
http://www.amazon.co.uk/gp/product/B00191ISYY?ie=UTF8&tag=gadge0a-21&linkCode=as2&camp=1634
http://www.doro.com/global/businessunit/dorocare/product?p=321RC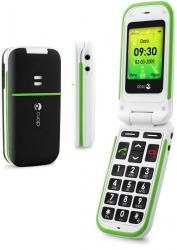 click image to enlarge
Doro PhoneEasy 410gsm
Another in the range of mobile phones designed for those who have a disability. These units have large easy to read displays and large buttons on the handset. This model even has Bluetooth so can work a wireless headset.
This unit has 18 keys all well separated and it has a simple open mechanism. The outside is black making it look near normal while the inside is white with a green band around the outside giving it high visibility for those with a sight problem.
The screen on the top half is clear and bright and is 3x4cm. The left side has only + and – keys for the volume and the right side battery charge and headset points. This unit does have a built in FM radio and it has a neck strap to allow it to be worn around the neck. There is also an emergency button on the back to allow assistance to be summoned should the user fall or need urgent assistance this can be just a matter of pressing the one button.
Doing my Internet searches found the Doro PhoneEasy 410gsm at a best price of £134.99 from the first link.
http://www.amazon.co.uk/gp/product/B001XURH9I?ie=UTF8&tag=gadge0a-21&linkCode=as2&camp=1634
http://www.doro.com/global/businessunit/doroCare/Product?c=11900&p=410GSM