LG KF600 Mobile Phone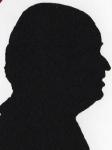 Few mobile phones today are simply that, and, the LG KF600 is certainly no exception. The surprise is often that they still make and receive phone calls. It has the Internet, plays MP3s and video, however annoyingly so far it refuses to do the housework.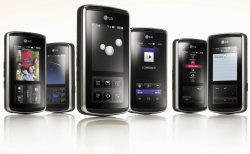 click to enlarge
For a slide phone the dimensions are not unusual at 10x5x1.5cm when closed, open the slide and nearly another 4cm is exposed. Initially this seems a little tall but that's because it has two displays. The top 4.2x3.2cm and after a .5cm blank area there is a smaller 2.5x3.2cm touchscreen area. The weight is just over 100 grams and mine was black with silver edges. However looking at ad's there seem to be at least four colours including a couple of pinks.
The rear has a 3MP camera and flash, it can of course take video. The left side has buttons for an MP3 player as well as two to increase and decrease the volume. The right side has the shutter control for the camera and a bung to cover the charger and hands free connection.
Open the slide to reveal three columns of five touch buttons including the numeric keys and the make/end call buttons, all clearly marked and easy to follow. Remove the back to insert your Sim and micro SD card and that's about it.
Connection is tri-band and local connection via USB or Bluetooth. So although there is web connectivity there is no 3G support.
I found the camera a little hit and miss (but the sample had been doing the rounds) when it worked the images were good and with the flash even night time snaps are possible. Micro SD cards always seem to demand a huge premium over a standard SD. When I review a camera my normal moans are no case and no SD card here it's just the no SD card as quite a nice soft carry slip case is supplied. Nice picture quality but in strong sunlight you really need to shade the screen to capture a decent image.
To me -old fashioned- I still go first for the phone and comparing reception I found this good and a lot better (using the same SIM) than other recent phones often giving four bars and a really clear conversation where others give either one or two and leave the other party in no doubt you are ringing from a mobile.
The second smaller part of the screen has just as good a quality as the main screen and this I find excellent.
The menus are easy to read and follow except in very strong sunlight where the semi reflective screen is not great. There are eight pre installed themes all a bit too adventurous for me but it does mean there are good choices for customization.
Perversely I found more effort had been put into the MP3 player than the phonebook but I suppose that's was is required these days together with a perfectly adequate FM radio. The organiser is fine and you can of course use it to browse the web. Also on my unit were a few games a currency converter and a stop watch.
Doing Internet searches for phones is never easy as the prices tend to vary hugely. What do you want it for and how much will you use it always seem the best advice. Answer those two questions and then find the retailer/phone company that ticks your boxes.
The Carphone Warehouse has offers from Orange, T-Mobile and O2
http://shop.carphonewarehouse.com/pay-monthly/lg/kf600-black/t-mobile/
http://uk.lge.com/products/model/detail/mobilephones_kf600.jhtml