EasyUse Mobile Phone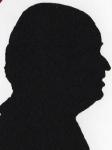 For anyone with poor sight a mobile phone is normally a nightmare, however this offering has large buttons and an easy to read display, ideal for anyone who wants just a phone.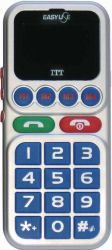 The ITT EasyUse mobile phone is a light grey colour and the phone weights only 112grams it is 13x5.5x1.5cm and the monochrome 4 line display is 3.5x2.2cm.
There are twelve large buttons (four rows of three) each 1.4x1cm and all have a large white numeral on a blue background. Above this are the green call button and the red end call button both with large white illustrations on them these are each 2cm long. Above this are four round buttons M1 to M4 and storing a number on each is as simple as pressing the button and then entering the number, after this just press the button required and the green button and you can make the call.
Normally the display will show icons on the top line, the time on the second line and the third line shows the date. When you dial a number a large box opens and as you dial the digits show up from right to left six to a line so twelve can be input before they scroll off the left of the screen.
The battery has a standby time of 160 hours between charges and around 140 minutes talk time. The right side has a mini USB lead to 13amp plug to charge the phone. This same mini USB socket is used to connect the supplied earbuds that enable you to use it in pocket as the earbud lead has a button on it to allow you to answer calls.
The left side has three buttons scroll up and scroll down with the basic menu button below this. Unlike most mobile phone this only does three things in sequential presses. One enters the phone book that can store 50 numbers, another push enters the time and date mode and the third push allows you to select from nine different ring tones.
Of course most modern phones do this and lots more but often they are fiddly to do any entering and the less agile will struggle not only to enter basic information but also to navigate the rather complex menus.
There is a small manual in six languages and here the whole concept is blown apart as the sixteen pages in English that explain the simple features and how to implement them are in small type - 30 lines of type on an 11cm long page - totally useless for anyone with less than perfect sight. Okay so a severely limited sight person will probably have a carer or friend to setup the phone but someone who is just old may well not.
It's all very well being shown on the RNIB website but surely the instructions could have been on A4 paper well spaced and yes it would probably have meant more pages but those who need a mobile phone without friends to set it up would certainly appreciate the larger instructions.
It is available for £139.99 from either of the links below on Vodafone Pay as you Talk package. http://www.silverphone.co.uk/shop/p3/EasyUse-Mobile-Phone/product_info.html or http://onlineshop.rnib.org.uk/display_item.asp?n=11&c=0&sc=0&id=3599&it=1&l=3