Nokia N76 mobile phone

Published Sep 17, 2007 Author
petew
Review controls
The Apple iPhone has it's official UK launch tomorrow by none other than Steve Jobs. Rather than review an iPhone though, we thought we'd take a look at the latest addition to the Nokia N series, the N76 - an attractive mid-range flip-open device with all the usual features. Available in a either black or red the phone has a good solid quality feel to it.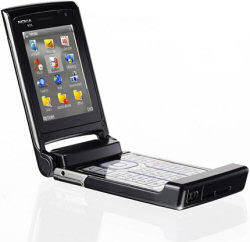 As with all phones now - this is much more than just a device for ordering a pizza. All the usual culprits are here : MP3 player, camera, FM radio, voice recorder and PIM (Personal Information Manager) functions. Even as a messaging device it isn't limited to voice. You also have video calls across 3G (dedicated camera for this), SMS and MMS.
You're almost spoilt for choice when it comes to connecting with other devices. USB or Bluetooth for local connection and 3G or GPRS for when you're on the move.
Dimensions of the closed unit are around 10cm by 5cm and it's 14mm thick. Weight is 115g. Not tiny by any means but this does give the people at Nokia the chance to add a good sized screen.
Under the bonnet the phone is using Symbians operating system - version 9.2. The user interface on top of that is Nokias own I believe.
Multi-media
As a multi-media device this phone shines on two fronts. Firstly the screen is excellent. The large width and height have allowed Nokia to add a large 2.4" bright QVGA display with a 240x320 pixel resolution. A second smaller screen is visible when the device is closed - this screen shines through the mirrored front of the phone. When off you wouldn't know there was a second screen.
The N76 is equiped with a an excellent speaker. This can be used as a hands-free 'speaker phone' or used as output when in media player mode. Nokia have managed to cram an amazing qualigy of sound and volume into what must be a very small speaker.
As well as playing various format audio content, you can in theory play video via the built in realplayer. I have to say I had a few problems with video - not getting anything I downloaded to play. I didn't have a lot of time to explore this area though.
Transfering data to the phone is simple using the USB cable. The phone appears as a new drive on your computer and you can drag-and-drop music from your collection. When you detatch the USB and open the phone it magically scans the memory for new music and other content and adds it seemlessly to the library - clever!
Camera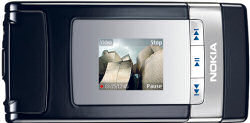 The main camera provides a 2 mega-pixel resolution. Good, but when compared with other products it could have been better. Great for snapping images. Like many phones there is no cover for the lens and so it's likely to get dirty and probably scratched over time so don't expect this to produce too many masterpieces.
A digital zoom is provided - rated at 20x. Digitally zooming to this extent isn't particularly useful - the results invariably blurred and probably shakey.
The camera is equiped with an 'LED flash'. This is actually more of a bright LED than a flash - it doesn't actually flash! The range is a little limited. It's fine for a shot of your friends across the table at the pub, but more than a couple of metres and the effect is very limited.
One nice touch is that you can use the camera without having to open the phone -just press the little camera button on the side and the small front screen shows the image being picked up by the main lens.
Battery life and memory capacity
The claim is 2 hours talk-time on a 3G network, 2.5 hours otherwise, which is probably good enough for many people. I do know a number of people for whom that really isn't going to be enough! Standby is claimed to be 8.5 days. I've not managed to either leave it alone for long enough to test the standby time, nor managed to keep a conversation going long enough to test the talk time!
The standard phone comes with around 26M bytes of internal storage. You can supplement this via the microSD slot with an additional 2G byte memory card.
The package
Nokia provide the N76 with USB cable, power supply and wired headphone, which have a built in microphone so answering a call while listenning to music is easy. The headphones also have a small control allowing you to control volume, answer calls and use voice commands without having to dig in your pocket.
Headphone and USB device connections are at the top of the N76. This is generally fine for USB, but with the headphones plugged in you're restricted from fully openning the flip-up section.
Summary
Good quality mid-spec 3G phone. Good camera and all the other functions you've come to expect on any decent mobile these days.