Virgin Lobster 700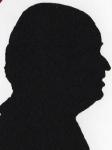 There are not many things left that a mobile phone cannot do however this is the first I know that you can watch live TV on, I mean live and not a link via who knows where.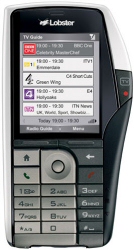 It is 11x6x2cm and weights only 150grams. Apart from a slight bulge on the right side it looks like a lot of other mobile phones. The screen is 4.5x3.5cm with a single button on that bulge on the right saying TV on the button.
Below the screen there are 18 keys and five position controller. The left side has two buttons - volume up and down - while the top has the on/off button and the right side has a single button to activate the camera. The base has a mini USB socket and 2.5mm earbud jack. Finally the rear has a 1.3mega pixel camera. So it all looks fairly standard apart from that slight bulge with the TV button.
This unit can accommodate Mini SD cards should you want additional storage capacity.
When you switch on the Virgin Mobile screen is followed by a Windows Mobile one then the interface looks much like many Smart Phones. The top left soft key can open any of the following. TV and Radio, Internet Explorer, Camera, Windows Media, Messaging, Calendar, Contacts, ActiveSync or Call History. Apart from the TV and Radio much like the interface for many Smart Phones or even a PDA. A total of 31 applications and applets are pre installed.
Press TV and by default the first choice is BBC 1 and after a few seconds while it displays 'Decoding' and then 'Buffering' you then have live BBC 1, very occasionally the signal was lost for a few seconds but apart from that the picture and sound quality were good. The viewing screen is 3.5x2.5cm and while this is small most would not look at a phone screen from more than 20cm away.
The other channels available are 'Channel 4 Short Cuts', E4, ITV News and ITV 1. Sometimes between 'Decoding' and 'Buffering' you can see a very quick flash of 'Acquiring Licence'.
Apart from those five TV channels you can also receive a good number of Radio Stations I got up to 52 according to the time of day, should a station be unavailable then it appears greyed out. If you press the button on the bulge you are connected to the Internet relevant to that channel, this may display a variety of information should that radio station use this method, for instance a local radio station may display traffic information for your area.
You can send and receive emails via Outlook or webmail. Internet browsing is somewhat limited due to the screen size and by default only 'PDA' type pages are available. The stated battery life is 4-5 hours in use and up to 180 hours in standby. I found a full recharge took just short of two hours.
There is an informative 180 user manual.
If you are a Virgin Mobile Pay Monthly customer (spending more than £25 per month) you will be given not only the Lobster phone free but also the mobile TV service free for the life of your contract.
For Pay as you Go customers the phone will cost £199 and then you get 90 days of mobile TV free after that it costs £5 per month. All Virgin Mobile customers in the UK get free voicemail, however see the link below.
While I doubt anyone would settle down to an evenings TV watching the 'Lobster' it could be great for the times you are delayed late at work and you have forgotten to set the video. Also just to catch the news - remember one channel is news dedicated - while your train sits waiting for non changing signals.
Checking online I see Carphone Warehouse have this on Pay as you Go for £159.95 including £10 airtime. http://www.carphonewarehouse.com/commerce/servlet/gben-pd-ProductDisplay?S=40&PN=PAYGO&filter_partModel=LOB700TVVIR