Two-Bay NAS Box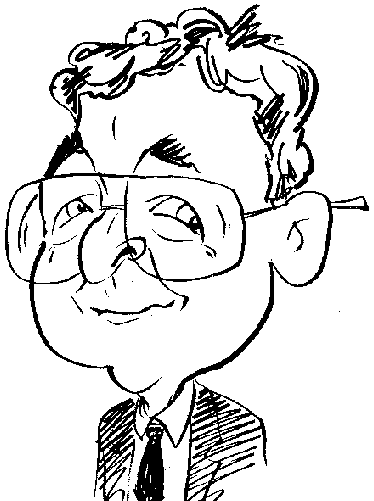 Review controls
Adding to its range of NAS boxes, Buffalo has released the LinkStation™ 520D. This is a two-bay unit that is available fully populated with a choice of 2, 4, 6 or 8TB of capacity and a choice of RAID settings. My review unit is the 2TB model.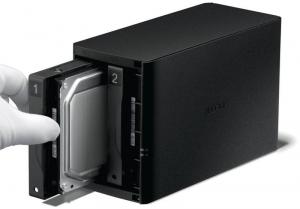 click image to enlarge
Apart from the model label and a thin red strip over the top of the front cover, the LinkStation 520D NAS box is totally matte black in colour. Housed inside this black box (dimensions of 87 x 126 x 205mm) are two 3.5-inch SATA hard drives. By removing the front cover you can gain access to these drives if the need arises for either or both drives to be replaced for any reason. Power and function LEDs are positioned alongside the front cover.
Located at the rear of the box are connections for mains, Ethernet and USB 3.0 use. Leads are provided for mains power and Ethernet connection in the box along with a Quick Start sheet of paper. The black plate also contains an on/off slider switch and red function button plus a ventilation opening for the unit's fan.
Once power and a connection has been made to a router, there is a short delay of approximately one minute as various housekeeping duties are carried out by the NAS box. No actual software is included in the box but you do get a URL for downloading various items of documentation, NAS Navigator 2 software for use on a Windows system (a different version of this software is available for Mac users) plus an additional link to pick up a 5-license copy of NovaBACKUP software.
When first run the NAS Navigator 2 software automatically starts with a Wizard leading you through the process of setting up a username name and password to go along with the Admin password using your browser. For some reason the browser on my work system decided to throw a hissy fit and objected to using the designated link to carry out this process. Fortunately switching to a second computer on the same network allowed for the set-up procedure to be completed. Incidentally both computers were running the same browser which compounded the mystery as to why I had the initial problem.
Along with creating usernames and passwords, you can reset the Admin password and select from a choice of RAID 0 and 1, with the latter being the default, and Linear set up. You might, as I found, need to adjust the time zone before the NAS box undergoes a restart to integrate the new settings into its system.
Earlier I mentioned the function LED. This feature quickly attracted my attention by flashing orange to indicate there was a message that required my attention. This message stated that there was a firmware update available that would upgrade the NAS Box from its current 1.10 condition to version 2.0. A firmware upgrade can be carried out from the Preferences option available from the Admin desktop Home screen accessed from a browser.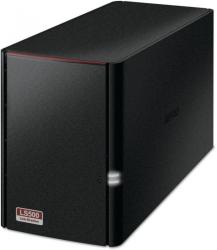 click image to enlarge
This Home screen displays shortcut-like folders entitled My LinkStation, My Photos, My Music, My Video, Applications and Recycle Bin plus a Launch feature. When accessing the software as Admin the Launcher will consist of icons for My LinkStation, Media Player, Disk Manager and Preferences. However when signing in as an ordinary user then the Launcher offers just My LinkStation and Media Player options. The Media Player option was slightly misleading as it is limited to working with just audio files. To view a video clip, you will need to stream its content for playing back using a computer-based player. While you are meant to be able to add options to the Launcher, I had no success when attempting this task.
You can drill down through the shortcuts to access content stored within the folders. Items can be move around and repositioned as you wish. There are also options to adjust features that include icon size, grid size and text size. It is also possible to change the background wallpaper using a favourite image.
Buffalo provides a number of applications for use with this NAS box. Along with the already mentioned Media Player, there are applications entitled Disk Information, Disk Manager, Image Viewer, Password, Server info, Show Windows and System Appearance. In some instances these applications are just one-trick ponies but they could prove to be useful.
As well as the graphical browser interface, access to some of the NAS box's content is available using the NAS Navigator 2 application. This software will display information regarding the NAS box such as Workgroup name, IP Address, Default Gateway and Firmware version. Double-clicking on the NAS box icon brings up a window giving access to folders designated for individual users and a Public folder. You can use normal Windows conventions to transfer content to these folders which are stored on the NAS box.
When carrying out similar tasks, such as transferring data and adding content, from within the graphical interface, a different approach is required and this does take some adjustment to the way you work. For instance when populating the My Music folder you need to select the folder and then click the Upload option. This will open up a dialogue box that allows you to browse to where the file or files are stored on the computer. Individual or groups of files, but not folders, can be added to a list which is then uploaded to the NAS box. Drag & Drop, plus working with folders, is far easier.
Pricing as follows:
Buffalo 520 NAS Models and Prices

| Model | UK Price |
| --- | --- |
| LinkStation 520 NAS 2TB High Speed NAS 2x 1TB HDD 1x Gigabit RAID 0/1 | £124.98 |
| LinkStation 520 NAS 4TB High Speed NAS 2x 2TB HDD 1x Gigabit RAID 0/1 | £179.99 |
| LinkStation 520 NAS 6TB High Speed NAS 2x 3TB HDD 1x Gigabit RAID 0/1 | £209.99 |
| LinkStation 520 NAS 8TB High Speed NAS 2x 4TB HDD 1x Gigabit RAID 0/1 | £304.18 |
Full details on the Buffalo web site.