MIPOW Power Cube 9000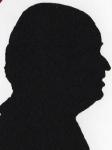 While most items to charge your mobile devices on the go are small this offering from MIPOW is not. While most items to charge your mobile devices on the go are light this offering from MIPOW is not. So the question is if it's not small and not light then what does it have in its favour?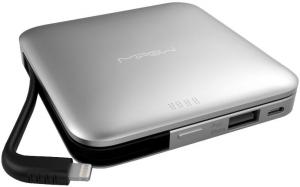 click image to enlarge
It comes in a box like a quality book with a slip case. The unit itself is 9x9x1.5cm and weights 250grams.
It has four tiny rubber feet on the base that makes it very stable on whatever you place it on and with so much weight it makes a very good paperweight. Mind you the aluminium case seems very strong.
This device is made for the modern range of 'i' devices as it has a built in 'lightning' cable that is 6cm long and is cleverly designed to fit round a corner of the unit so the right angle plug fits snugly in place when not in use.
However those of us that use Micro USB are also catered for as there is a 1metre micro USB to USB cable provided that works in the same way as with other charging devices. In fact it is possible to charge a lightning device and a USB one at the same time.
The maximum input charge is 1.5amp at 5volts. The maximum output is 2.4amp at 5volt.
The 9000 in the title relates to the storage amount in the Li-polymer battery.
USB end in socket on side of unit and the micro USB end plugs into your SmartPhone or other device and it then receives power. Turn the cable round and place it in the micro USB socket and the USB lead into a PC or wall socket and the unit then takes in power.
Also in the box is a fabric case to transport your Power Cube 9000 around with draw string closure the manual calls it a pouch.
There is also a tiny User Manual in eight languages and the first five pages are in English but at my age you need a magnifying glass to read the small text.
However as everything on the unit is at one end the lightning cable, the on/off button, USB output and USB input the manual is not that important.
In my tests it happily charged any phone I requested it to but it was sometimes fussy about charging a couple of Android Tablets.
My feeling is that to charge on the go you need something you are happy to carry with you when out and about in a bag and while in itself 250grams – without bag or lead – is not that heavy it is all added weight and therefore it tends to defeat the object. Yes it could sit on a desk but there you would probably have access to mains power.
It seems to be available in three colours grey, gold or silver.
The MIPOW Power Cube 9000 is available from the link below for £47.84 with free delivery.
http://www.amazon.co.uk/gp/product/B00SQP75BS?ie=UTF8&tag=gadge0a-21&linkCode=as2&camp=1634