Converge & Cordies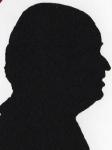 The first is a device that 'other half's' will love as the cables are kept out of sight. The second is something most people need a device to keep those cords untwisted. The link they both work in the home or office environment.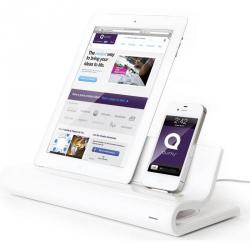 click image to enlarge
Converge
This is described as a 'Docking station displays and charges your gadgets'. Rather than having items such as phones and other devices lying around and chargers hanging out of power outlets now you can keep everything in one place.
It is cream 30cm long up to 13cm deep at the base and a maximum of 10cm tall this is 10cm from the front. It has a 24cm long rubberised slit 4.5cm from the front, in the centre of this is also rises by 4.5cm and this is where all your leads are fed through to the back platform that has an indent and behind this a row of four USB ports.
The number of devices that can be charged simultaneously is four as there are four USB ports hidden behind the facia, they are sensibly pointing up so any cable end is also hidden in the same way.
If the device charges from the base then the dip (tray) that is behind the facia keeps things hidden. As there is a centre upcut an item that charges from the right side and an item from the left side are also catered for. The one problem is the ones that charge on the top as then the lead would show but only the lead disappearing behind the facia.
Of course if you charge an iPad or other Tablet device it will take up more space on the units platform but if charging cables are left in place you see a platform with cables poking through and not anything else.
The base has four thin rubber feet to stop any chance of the plastic marking whatever it is sitting on.
So the devices I have tried have had micro and mini USB to the items, the Apple 30 pin connector and of course USB to USB.
Certainly trying to look at it from the point of view of those who try to keep the home tidy having four USB ports full of cables that are hidden by a facia is certainly better than a plug with an orphaned lead draping across the kitchen or dining room table.
A lot of mobile phones are now being sold without a charger simply because they all can charge from a USB lead. So perhaps a device like this can stop the cry of 'mum where's my phone charger' The cameras battery becomes easy to charge and that all elusive 30pin 'i' device lead all live behind a facia and best of all a single DC charger inputs the back base of the unit and only one power outlet is taken.
So a simple device should bring harmony and best of all less clutter.
The Converge is available from the link below for £39.95.
http://www.prezzybox.com/quirky-convergerest-and-recharge.aspx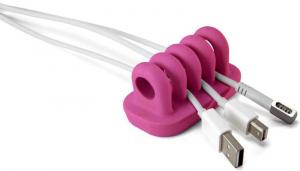 click image to enlarge
Cordies from Quirky
This does a similar job to Corverge above. It does not hide the cords but it does keep them available and unlike the item above it can work with DC adaptors and mains leads as well as USB offerings.
I was first offered a violent pink one but after my asking if other colours were available I was offered grey or white. While the unit I was sent did have a hint of grey in it my uncultured sense of colour calls it black and if I was really being fashion conscious charcoal grey.
It is 8x4.5x3cm and has a heavily weighted base so it should normally stay where it is put.
The top has five rubberised hoops which your cables fit between and while they still can get tangled between the Cordie and the power socket the important thing is that the end is available for you to connect your device into.
The gap between each hoop is a few millimetres but as they are rubberised you can just as easily fit a power lead or a 3.5mm audio lead between them each will be held securely but you are still able to pull it clear or just further away.
Cordies are available from the link below for £9.79 with free delivery from the link below.
http://www.amazon.co.uk/gp/product/B004GUS4ZS?ie=UTF8&tag=gadge0a-21&linkCode=as2&camp=1634