Aerial and Boom Ball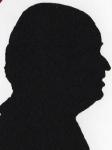 Review controls
The One For All Indoor Aerial worked with a TV and TV/Panel the latter reviewed two days ago. The second landed on my desk just before Christmas and for such a small ball it gives a good sound so two amplifying items, both are currently around £15 each.
Buy Now!
One For All Amplified Indoor Aerial @ Boom Ball
Direct from Currys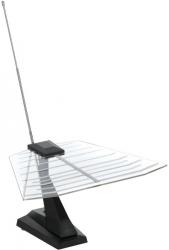 click image to enlarge
One For All Amplified Indoor Aerial
I reviewed this in two places, the first with reasonable reception where certain groups of channels were received even with amplification. The second where most aerials struggle and with amplification I got acceptable reception on all channels. These two places are either end of my not huge property, so it certainly works.
It consists of two parts a single rod aerial and a eight bar offering (highly directional elements) within a sleeve still visible but protected from knocks.
It has a base of 15x6cm with a 1.2metre hard wired lead emerging from its rear. The DC adapter also connects beside this together with a twist fitting that increases or decreases the amplification that it uses to deliver a signal.
The eight bar offering is between 15 and 29cm in depth and 22cm high, but without trying to confuse these figures can be reversed according to reception and the placement of it. The rod aerial is 40cm long and is in three sections.
The total possible signal amplification is up to 38dB from what is available naturally. So that is what solid walls can absorb.
While most will know that digital signals are on a group of channels the reception strength varies a great deal – far more than with Analogue – so for me the BBC grouping is strongest and ITV seem the weakest so even in the good reception area I need amplification to watch ITV.
The One For All Amplified Indoor Aerial Digital SV9135 is available from Currys for £15.99
http://www.currys.co.uk/gbuk/one-for-all-sv9135-amplified-indoor-tv-aerial-18537409-pdt.html
http://www.oneforall.com/product/index/id/272/title/sv-9135/cat_id/2/type/aerials/sub_id/5/sub_title/

click image to enlarge
Boom Ball
A 3cm plastic ball with a tiny key ring set in the top, the base has a 3.5mm jack socket. It comes with a 5.5x3.5x1.5cm box that contains two 'AAA' batteries. A lead comes out of each end one goes to the ball the other to an MP3 player. Surely this cannot be it? I switched the box on and the MP3 player and if I strained enough I heard music.
So when all else fails read the instructions. Unscrew the ball and attach the tacky rubber surface from the bottom half of the ball to a hollow surface a small empty cardboard box – I used one 12cm cubed – and then the music come through clear and loud. So you use only the bottom half of the ball, the top is just to keep the tacky rubber clear of picking up fluff etc.
Try anything with space between the sides an acoustic guitar gives a lovely sound when it's attached to it. Even a corn flake packet gives good vibes. The list is endless just try till you get the sound you want to suit your mood.
Any MP3 player or 'i' device with a 3.5mm jack output works so even you smartphone can be used to provide the music.
You do of course need the supplied battery booster as this has the two 'AAA' batteries. You cannot connect the unit incorrectly as the lead from the ball to the battery booster has a 2.5mm jack plug. The lead out of the other end of the battery booster has a standard 3.5mm jack to go to the unit of your choice be it MP3 or iPod etc.
You can find other reviews on the site for items using resonation to boost output but none of them cost £15.
The mightyboomball site below has them available at £15. http://www.mightyboomball.com/