Windows 7 – The Definitive Guide

This book by William R Stanek and published by O'Reilly contains a massive amount of information in its 960 or so pages. It is not a book to be read but one to be delved into as and when the need arises – and this could well be anytime from the moment you get the computer.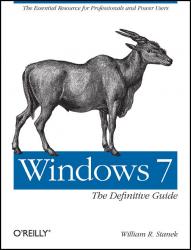 While not aimed at the rank beginner, it provides a broad spectrum of information and so will be of interest to virtually everyone ranging from the serious amateur through to the PC professional.
With virtually all PCs now coming with some version Windows 7 installed, we are all faced with a large number of similarities with previous versions as well as the differences -- some of which we will find disconcerting. That applies to both stand-alone and networked configurations. In addition, there are the Windows accessories such as the Snipping Tool, Sticky Notes, and Speech Recognition.
Even basic features such as Windows Explorer have changed. The book provides illustrations of the new version and then discusses configuration and search options. Because Stanek has previously produced a number of other books it is not surprising that one can see areas which are effectively updates of his previous work. This is no bad thing as it provides a perspective of the various technologies including some of the obsolescent ones as well as those that are current. Hence, irrespective of whether it is PATA, SATA or SCSI disc storage or the benefits and trade-offs between various media formats one is able to obtain a better understanding of what is involved and (often) why.
Even if these are not of great interest (or you think that you know it all), with homes increasingly having two or more PCs, all aspects of networking and the Internet are of growing importance. Here the section on networking which includes an explanation of IPv6 prior to going on to advanced network concepts and then security as well as Windows Live applications will prove to be very useful.
This is not a book for the complete beginner, but for the Windows 7 user who has already some experience of PCs. Although it has a cover price of £45.99, it is available from Amazon at a much more reasonable price of £26.97. This makes it of much more acceptable to those who, having made an investment in a Windows 7 machine, want to get the best out of it.
In this context, many users will find the chapter on computer security of importance as, having started with a discussion of different threats and the defences that can be employed it covers the background, usage and configuration of the (security) Action Center.
Windows 7: The Definitive Guide author William R Stanek. Pub. O'Reilly £45.99
ISBN: 978-0-596-80097-0. (Amazon £26.97)