Vlingo - speech recognition to go

Published Dec 1, 2009 Author
petew
Review controls
Speech recognition on mobiles hasn't moved beyond answering the odd call - Vlingo aim to improve matters!
Buy Now!
Vlingo
Full details on
the Vlingo website



One of my favourite moments in film history is Star Trek's Scottie, travelling back in time, sternly calling "Computer............ Computer..................." at a 20th century computer screen. Getting no response he believes the computer to be broken. Well we all know that technology has brought us voice recognition applications on computers and now Vlingo are making this part of our daily lives with their mobile voice recognition sotrware.
Originally available in the US, Vlingo arrived in Europe this year and is availble on the Ovi Store by Nokia. All Nokia N97, the Nokia mini and Nokia E72 mobiles come with Vlingo preloaded and downloads are available to a wide range of Nokia phones (Nokia N97, N95, N95 8GB, N81, N97, E51, E52, E55, E71, E71x, E72, E75, 5230, 5530, or 5800, 6120).
Vlingo is set to become one of the most popularly downloaded mobile applications – there are already over 2 million users worldwide – only one year from it's US launch.
For the busy person, Vlingo helps you to use applications on your phone without needing to tap through lots of screens. You simply download the applciation and speak into your mobile using ordinary speech to send a text or an email message, call a friend, create a note to yourself or search the web. For example you can say "Find me an Indian Restaurant in Hatfield" and then instruct your mobile to "Send message to Phil, message, let's meet at the Taste of India, Salisbury Square, Hatfield at 7pm tonight".
The three most popular uses for Vlingo are sending texts, searching the web and voice dailing.
The basic version of Vlingo, available as a free download, allows users to use voice commands to: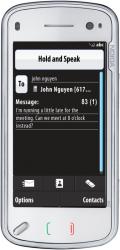 click image to enlarge
open third party and native applications such as camera and calendar
send a limited number of text or email messages
find and dial numbers
search the web
create notes to themselves
There is an upgrade fee of £12.99 or £3.49 a month which gives you Vlingo Plus. This allows users to send unlimited texts and emal messages.
The clever part of Vlingo is that it will adapt to the type of words you use and it will adapt to your accent, getting better at how it performs the more you use it. Imagine being able to update your Facebook or your Twitter status just by speaking into your phone.
Vlingo claims to be the only technology that allows people use use vitually any application on their phone simply by pressing a button and speaking into your phone.
Vlingo doesn't have a restrictive set of instructions you can use. Whatever words you use it will learn and adapt to you. This happens using advanced adaptation techniques that learn what users are likely to say to different phone applications. The technology is called Hierarchical Language Models (HLMs). This allows Vlingo to scale its learning algorithms to millions of vocabulary words and millions of users. Because of this there are quite a few advantages. Accuracy is greatly improved. Any application can be speech enabled. There is no large up–front work or speech expertise necessary to speech–enable an application.
You can see a simple to understand demonstration at http://www.vlingo.com/products/nokia/
Vlingo is also available for iPhone and Blackberry.