Two Belkin Items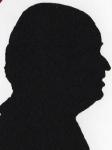 Review controls
The first is a lightweight shoulder bag that has lots of pockets, ideal for losing things in. The second is a rotating USB hub called a Flex Hub enabling you to place a hub where a hub would not normally fit.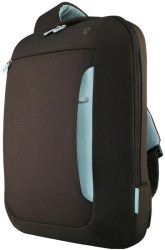 Belkin Sling Bag
Not being up in the latest wording I would call this a backpack or a rucksack but it only has a single strap and sits on your left shoulder.
The wording on the bags label says 'slim and lightweight carry your laptop and gear in comfort'. Well it seems quite light - when empty - and it is stated to accept a 15.4inch notebook - it does - and it has a range of other pockets to accommodate all those extras. It even has a zipped pocket on the strap that can accommodate an MP3 player or even a PDA or phone this of course would be across your chest.
I found it comfortable sitting high up on my back with the top of the Sling Bag just above my neck. There is a lot of adjustment in the webbing so it can be worn a lot lower should you wish, there is even a quick release buckle.
The unit I was sent is chocolate brown with a pale blue contrast for the inside, the back of the bag and the strap. It is 47x33x6cm when collapsed. 8cm from the top is a 18cm zip for a useful 31cm deep pocket. In the back lining is a coin or card pocket. There is also a vertical 21cm pocket on the right side.
Zips go down 28cm each side to open the bag, the inside has a main (extra padded) section for your laptop and a secondary 22cm deep pocket that is to the centre of the bag idea for papers etc. To the outside of this is what to me looks like an oversized pencil case but it is marked with a plug symbol so I assume it is meant for your power supply and leads etc. On the inside of the back lining are numerous little pockets for pens, cards and all manner of small objects, I counted nine not including a final 20cm wide zipped pocket.
Doing my Internet search found the Belkin Sling Bag at a best price of £24.42 including delivery from the first link below.
http://www.amazon.co.uk/gp/product/B000XHM4H2
http://catalog.belkin.com/IWCatProductPage.process?Product_Id=380527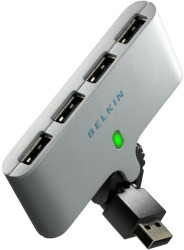 Belkin Flex Hub
This is a small neat (and powered if required) USB2 four port hub.
The secret is the connector that goes to the USB port it can twist two ways and rotates up to 180 degrees. As an example you may have something in the next USB port that is not flexible like any device other than a lead that plugs in, this normally means only a lead can be plugged into the other port.
Here you need only 1.5 cm from the socket before a twist or rotation can take place thus meaning the port is again available.
This four port hub is 8cm long, 4cm wide and 1.5cm deep in it's fully extended position the USB plug extends another 5cm. The hub can move up, down, left or right so if it's physically possible it will then fit.
The box also contains a power adapter for those PC's or notebooks that cannot send enough power for the hub, normally I find this is not required but it's better to have one just in case.
Doing my Internet searches found the Belkin Flex Hub at a best price of £18.88 including shipping from the first link below.
http://www.microwarehouse.co.uk/catalogue/item/A0345354