Two Heavy Books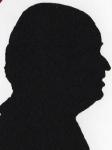 Heavy both in weight and content as the subject they both cover is one of the most full featured software products around Adobe Photoshop the latest CS3 version and the CS3 Design Premium.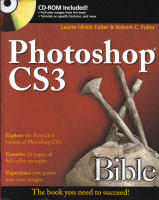 Photoshop CS3 Bible
Certainly not a light read in fact you may need to build some muscle to pick it up as it is 1200 pages. As regular readers will know I enjoy a good read in the 'smallest room' this I made an exception as it needs to be adsorbed near a PC as a lot of what it says needs to be tried before the thought process goes. It comes with a companion CD-ROM containing tutorials.
If I say that thirteen pages are taken just to cover the contents of the twenty chapters and two Appendix and index you start to see what is contained in this tome. Robert C. Fuller is stated to 'shun daylight' well I can understand this as authoring a book like this takes a good bit of time. His co-author is Laurie Ulrich Fuller who is described as a graphic artist.
Part One 'Welcome To Photoshop' has three chapters and 179 pages. Part Two covers 'Painting And Retouching' this has four chapters and 175 pages. Part Three 'Selections, Masks and Filters' has five chapters and more than 280 pages. Part Four 'Layers , Objects and Text' four chapters and 220 pages. Part Five 'Color and Output' has four chapters and over 200 pages. Then the two Appendixes these cover 45 pages and finally the 50 plus page index.
That paragraph was painful to write but perhaps the only way to describe in a few words the complexity of the content of this tome. Certainly - Adobe allowing - this will take months if not years to fully digest and I can claim only to have picked at it over the last couple of months.
I found the illustrations helpful and with a subject as heavy as this you need all the help you can get.
ISBN 978-0-47011541-1 www.wiley.com/cmpbooks It has a UK price of £26.99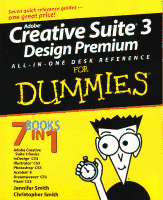 Adobe Creative Suite 3 Design Premium for Dummies
This is another weighty book but while it is over 800 pages and the subject covered are more broad ranging than just Photoshop CS3 it is far less deep in it's content.
My only worry is that any 'Dummy' would even contemplate using any CS3 product. Written again like the offering above by two people with the same name. This time it seems they are brother and sister and both come from a training background and that always helps when you are trying to teach via a book.
Dummies books always try to be light hearted and normally have some cartoons. Here however - probably in deference to the subject matter - these seem to be dropped and instead there are more useful illustrations.
Book One covers 'Adobe Creative Suite 3 Basics' around 70 pages and eight chapters. Book Two 'In Design CS3' 125 pages and nine chapters. Book Three 'Illustrator CS3' 158 pages and thirteen chapters. Book Four 'Photoshop CS3' 113 pages and ten chapters. Book Five 'Acrobat 8' 50 pages and six chapters. Book Six 'Dreamweaver CS3' 84 pages and nine chapters. Book Seven 'Flash CS3' 136 pages and nine chapters. Finally an index of more than 30 pages.
Not in any way the same intensity if it was I expect my brain would have exploded however it could be enough to see if the products listed can do the tasks you require and perhaps if you are capable of doing them or do you need to employ someone to do them for you.
ISBN 978-0-470-11724-8 www.dummies.com UK price of £22.99