Philips Panel Brilliance 272P4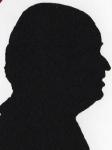 Sold as a Clinical D Image panel it is capable of 2560x1440 display. The 'clinical' bit of the last sentence means the display needs to be ultra-sharp and clear as when a surgeon is looking at say an X-Ray image he/she needs clarity.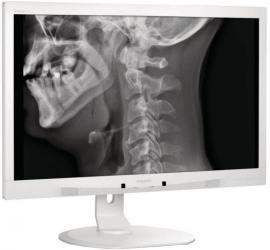 click image to enlarge
This 27 inch Philips LCD monitor measures 63.5x39.5cm and it is 2cm thick at the edges. This is a 27ince panel. The near round support base is 30cm across, the arm coming from it can raise the panel between 1 and 16cm from whatever you stand it on. These figures assume you use it in portrait mode but it rotates easily to be used in landscape.
Connections at the rear are from left to right audio input, HDMI1, HDMI2, Digital and Display Port at the other side of the support arm DC input. There is a webcam built into the centre of the top of the screen and there are two 2W speakers.
On the edge of the display is a 3.5mm headphone out socket. On the left edge is a USB3 upstream port and below this three USB3 ports.
Controls are at the bottom right edge of the screen five well marked touch buttons.
While you will get 2560x1440 using Display Port, you may not – dependant on your graphics card – get that with HDMI or Digital. What you will get is at least 1920x1200.
Assuming you can get 2560x1440 it will be at 60Hz.
The stated viewing angle is 178degrees. You have 'SmartImage Clinic' picture enhancement.
This unit comes with consistent DICOM greyscale which for diagnostics is important.
For medical diagnostics consistent display of greyscale is vital this is called 'part 14 compatible greyscale standard display performance'.
SmartImage is defined as 'optimizes display content by dynamically adjusting brightness, contrast, colour and sharpness in real time'
I do not know the following extract from the Philips site to be true but I take their word for it 'Germs have become a growing problem in hospitals and clinical environments worldwide as they can cause life-threatening infections. Philips clinical review displays take care of this challenge by using a JIS Z2801-compliant antimicrobial additive in its housing material making it an integral part of the display housing. Your wellbeing, along with your patients, is now assured by this protective shield that impedes the growth of the most common microorganisms, such as "Staphylococcus aureus (Gastroenteritis)", "Escherichia coli (E Coli)" and "Klebsiella (Pneumonia)", for example'.
This display has a second sensor that it detects if the user is present and if not it can save up to 80% of the energy costs in running it.
Also from the Philips site I note that should you want/need to it can be connected by a 15metre long DisplayPort cable.
My use of this unit was solely in an office environment so that is why I have quoted from the Philips site in the article. While I do visit hospitals I hope it's not that frequently.
The Philips Brilliance 272P4 is available from the first link below for £543.98 with free delivery.
http://www.amazon.co.uk/gp/product/B00I9QYIGY?ie=UTF8&tag=gadge0a-21&linkCode=as2&camp=1634
http://www.philips.co.uk/c-p/C272P4QPKEW_00/brilliance-lcd-monitor-with-clinical-d-image/specifications