Tech air Sports Backpack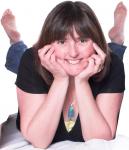 A roomy laptop backpack for communiting, with plenty of space and the added benefit of specially designed cushioning and lost and found tracking sytem. Part of the extensive Tech air range.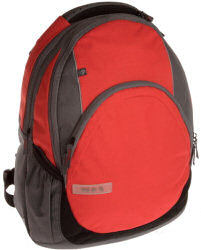 This review is about the Tech air range of laptop bags. There are two unique features of Tech Air bags, one is the Tech Air technology and the second is the i-TRACK (tm) tracking system. Both features are about protection for your laptop bag and it's contents.
The Tech air technology, is briefly a series of pressurised air tubes which surround the laptop compartment of the case/bag. According to their studies this has proved to reduce impact on dropping by around 50% on areas such as corners, purported to by one of the areas most likely to get knocked about whilst commuting. I have to admit I wasn't prepared to test this feature out on my own laptop - preferring to reference the information from their website!!
The i-TRACK (tm) tracking system, starts when you enter the unique identifying code from a fabric tag on the bag into the Tech Air website. From here if your bag is lost, and then found, it can be reported and is more likely to find it's way back to you.
From the extensive range I road-tested the Sports BackPack SO701. It has a plethora of different places for your various bits and pieces. The front pocket has holders for mobile phone, pen and business cards. The centre section has the Tech air - airtube technology for holding your laptop and an elasticated and velcro strap to hold the laptop in. There is also plenty of room for cables, mouse and power supply. The back pocket is expandable and would easily give room for writing books and a fair bit of paperwork.
I would have been happier, however, if this had just been called a large capacity 'Laptop Backpack'. The sports part is a bit misleading, as I struggle to see how I could comfortable get trainers, towel, shower gel and sports kit in the back section, especially as this is the part that is in contact with your back. Flat folders yes, bumpy trainers no!!
Still it is a roomy bag, and it comes with a lifetime guarantee. So if the bag lives up to it's claims for protecting your laptop it could be worth considering.
I popped in everything I could think of for a commute into town and found I had plenty of room left over. However, I did find that the shoulder straps were too widely set for my female frame (and I'm not that small!). My other half, however, had no problems, with his wider shoulders. This just goes to show, that really it's probably best to road-test a backpack in person before buying to see that it suits your frame.
Tech air do have a very wide range of bags - so worth giving their website a quick breeze.
http://www.techair.co.uk/store/products.asp
I couldn't find the actual bag I reviewed for sale on-line, But Amazon do have a good selection of the Tech Air products. Here are two examples:
Tech air 5702 Laptop protection £44.36
http://www.amazon.co.uk/Tech-Air-Techair-laptop-protection/dp/B000T2DFTM
Tech Air series 3 3706 Notebook Carrying Backpack £39.99
http://www.amazon.co.uk/Tech-air-3706-Notebook-carrying/dp/B000H80I8Y