Alba portable DAB/FM radio and MP3 player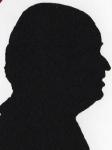 Review controls
This is certainly one of the smallest DAB radios around, but small certainly does not mean limited functionality as it also has FM and the ability to be an MP3 player.
Buy Now
Alba MP3 Player and DAB Radio
PRDAB200MP3 no longer available consider...
this alternative
£42.42 from Amazon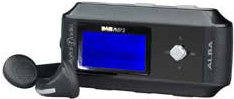 It is 8.5x6x2cm and weights only 120grams. It has a 2.5x1.5cm three line two colour display in the centre of the face that is extremely clear and easy to read. This is surrounded by eight rubberised buttons that control the unit. All but two are very obvious as to what they do and the 32 page manual describes everything in detail so the job of the two buttons that have a picture of a beating heart and a sun beside them are soon explained.
Both the left and right side are in the grey/blue rubberised material that could help if the unit were dropped, however this is not advised. The rest is shiny black that does show fingermarks apart from a chromed strap holder on the top. The rear, top and base have no controls or access points.
The left side has the on/off switch and this requires a firm press for a couple of seconds this is useful - as the unit has no hold setting - to avoid accidental switching on or off in your pocket or bag. It also has a cover over the SD/MMC slot. The right side has a standard 3.5mm earbud slot and a cover for the mini USB and power input point.
The unit sits nicely in the palm of the hand. Before you first switch on ensure the earbuds are connected and reasonably unfurled as the unit will immediately perform a scan for DAB stations available. It found 51 for me but I do live in a reasonable reception area. Why not check availably in your area by entering your postcode at www.ukdigitalradio.com . It is simple to quickly click through to find stations you like but with 51 it can take a while so why not quickly add stations to the 20 presets available for even quicker access to those towards the middle of the available stations. When you next switch on it will be turned to the station you were last listening to.
A press of the sun button will switch you to FM and here you will probably hear static as unless you have a station right at the lower end of the waveband in your area. Clicking the right arrow advances .05 of a MHz so to say get to 105.4 will take a while so again on FM you have 20 presets available so here they are even more important than on DAB.
Another click on the sun button will swap you to MP3 or WMA mode. I found the easiest way to transfer files was a straight copy from the PC via a card reader but if you have Windows 2000 or Windows XP then you can connect the unit via the supplied mini USB lead and transfer in that way. NO SD or MMC card is supplied but these are very cheap today 512MB ones are probably only around £15.
Unlike some devices that require all MP3 files to be in the root folder you can put them in as many different folders as you wish either by album or as I do by artist. A quick read of the manual will tell you how to swap folders.
There is a pouch provided to protect the unit when in a pocket or bag. Battery life is around ten hours between charges. I was pleasantly surprised to be able to listen to both DAB and FM on both bus and train journeys. However for those occasions when stations do vanish - underground - there is always your MP3 collection.
Doing my Internet search found it at a best price of £109.99 at Argos see link below.
I am also told it's available at Makro at £93.99 but you need a card to shop with them.
http://www.argos.co.uk/static/Product/partNumber/0490335.htm