Hanns G Mini PC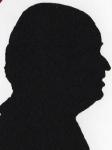 Small is perhaps an inadequate word in this case. I have reviewed mini PC's before but never something smaller than even a small mobile phone and this PC runs Windows 8.1 so can something that slips into a pocket deliver?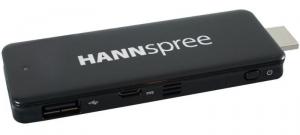 click image to enlarge
It is 10x4x1cm with connections once plugged into an HDMI port on the back or side of your TV. It could also connect into a standalone panel. It weighs only 45grams.
The other bits in the box are a 13amp adapter to plug the provided micro USB to USB into, there is also a 20cm HDMI extension cable which I needed for all three devices I tested it on as the 4cm width of the stick would not plug in without it, so you actually plug the extension lead into the TV and the 'Computer Stick' into the extension lead. There is also fold out sheet - five sides of 13x6.5cm - that is the 'Product Manual'.
You will also need either a Wireless or Bluetooth keyboard and mouse set. I know there are such things that power both mouse a keyboard from one port but as I did not one to hand I connected a four port USB hub to the USB port and used two of the ports for a wireless keyboard and mouse. I also tried plain USB keyboard and USB mouse both wired but the latter were a little restricting, however they did work. I then went on to connect a USB speaker for better than TV sound and for good measure a 16GB USB stick for additional files, this last item did sometimes cause a streaming problem but was fine for transferring files both audio and video and then playing from the 'Computer Stick'.
So onto what the 'Computer Stick' has, on the right side is the on/off button, micro USB port that you connect the micro USB to USB lead and plug to for powering it and then the USB port for connecting things to it as I did with the four port hub. The left side has a micro SD card port for extra memory; the back end of the top has an LED to show that it is on.
The computer is an Intel Atom quad core chip running at 1.33GHz this has 2GB of RAM and there is 32GB of memory for storage in eMMC so it is quite stable when being moved around.
The Wi-Fi connected perfectly to my home network and it can use B/G/N while it has Bluetooth 4 built in as well.
In use after several hours on it was just slightly warm no more, there are two pairs of three 5mm slots for cooling on either side.
As I had no suitable power point within the 110cm length of the provided USB to micro USB lead I also used a short USB extender lead.
The Windows 8.1 operating system worked and for someone with limited space or perhaps as a backup system it worked well.
I would have liked maybe a Bluetooth keyboard/mouse set included and the USB to micro USB to USB lead to be say 1.5metres then this would have been a complete system.
The Hannspree Computer Stick is available from the link below for £146.99 with free delivery.
http://www.amazon.co.uk/gp/product/B00S655KPG?ie=UTF8&tag=gadge0a-21&linkCode=as2&camp=1634