AOC Q2770Pqu high-end monitor

When putting good money on the line for a PC that will meet the demands of high-end games or other applications such as intensive photo-editing it makes sense to get an equivalent high-end monitor. The 27 inch q2770Pqu from AOC's professional line, having a native resolution of 2,560 x1,440 WQHD, good colour rendition and a wide range of connectivity options will meet these demands as well as being a possible option for those planning upgrades.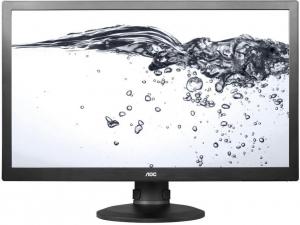 click image to enlarge
This monitor is mounted on a turntable base and, in its normal landscape mode is 25.25 inches wide and so, as one can appreciate, takes up a fair amount of real estate on the desk but never seems overpowering. Its slim black bezel is less than an inch on three sides while the lower edge, with the concealed controls on the underside, is just 1.25 inch. The monitor can be tilted up to 25degrees backward and 5 degrees forwards and the counterbalance in the stand enable it to be easily raised or lowered over a range of over 5 inches. Hence it is easy to adjust the position of the monitor to suit one's needs.
The screen can be rotated through 90 degrees to portrait mode for those applications that need it. This, in fact, is also quite useful as it makes it quite easy to access the power and signal inputs, the audio connectors, as well as the USB input and the two USB 2.0 output ports all of which are on the underside. The two USB 3.0 ports (one of which is fast-charging) are conveniently located on the rear RH side of the display
A wide range of input signal connectors are provided: DisplayPort, HDMI, 24-pin DVI and 15-pin D-Sub. With a native resolution of 2,560 x 1440 WQHD the monitor is capable of delivering strikingly sharp images with excellent colour rendition. However, one needs the appropriate graphics input which is either DVI (Dual link) or DisplayPort, For HDMI the highest supported screen resolution is also 2560 x 1440 but it always depends on the capability of the graphics card while the best resolution that can be obtained when using the D-sub connector is lower, but still pretty good, at 1920 x 1080.
The LED back light contributes to the high brilliance that provides satisfactory viewing, and a wide angle of view, even in bright light. While the OSD controls are easily within reach as they are located on the underside of the bezel they are not as clearly marked as I would have liked. However, the "i-Menu" on-screen software provided is a more convenient way of adjusting display settings making it easier to get the most appropriate colour balance.
Also supplied is the Screen+ screen splitting software which enables the screen to be split into a number of panes. This is ideal for running, and viewing, a number of applications concurrently rather than just one full-screen photo editing or spreadsheet session. In practice, using a single full screen, I found that I could have three pages of a large document displayed side by side whereas I have only been comfortable with two on lesser monitors.
With a list price of £429.99, but available on Amazon at around £360, the q2770PQU is more expensive than a great many 27 inch monitors. However, it a premium product with superior performance and so the cost could well be justified where the user spends a lot of time sitting in front of the screen looking at fine detail or at demanding applications.