Trendnet or Devolo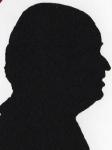 Review controls
Two companies offering devices to let you extend the range of your router by using Ethernet over your ring main, this means that if you have dodgy conectivity in part of your property it can be solved by using a plug in adapter.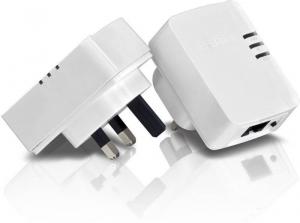 click image to enlarge
I am looking at two solutions the first a basic offering from TRENDnet that does what it says. The second from Devolo that works faster and allows you use of a gang socket, and also has Wi-Fi. Of course the second is more expensive.
TRENDnet Powerline 200 AV Nano Adapter
These units are small at 7x5x4cm and on first glance look exactly like a slightly large 13amp plug. The base has an Ethernet socket with a small reset button beside it. The face has three LEDs on the right edge.
As with all such devices you need two, the first goes into a power socket near your router and the supplied 1.5metre Ethernet cable connects it to the router.
The second can go anywhere on the same ring main – most normal homes only have one – and you then connect the second Ethernet cable – provided with the second unit – between that unit and your notebook or PC.
A very simple connection in essence very like attaching a very long Ethernet cable between your router and the target device, however without the trip risk when running long cables.
Using the Powerline 200 plugs send the signal along your electrical wiring. In theory anyway you get 200mbps over your wiring.
Often such devices are supplied in a Duo pack as you need at least two but I was send two in single packs. There is a single sheet Quick Illustration Guide that really is just three illustrations, the first showing connection at the router, the second at the destination and third saying do not use gang sockets or surge strips as these disrupt the signal. There is a CD with a Utility and a full User Guide, however the User Guide should not really be needed.
It is stated to work with up to three devices running from one connection from the router but as I was only send two plugs I could not test this out. A simple connection that does what it says, it works.
The TRENDnet Powerline 200 AV Nano Adapter is available - as a dual pack - from the link below for £26.99 with free delivery.
http://www.amazon.co.uk/gp/product/B00BIH8W40?ie=UTF8&tag=gadge0a-21&linkCode=as2&camp=1634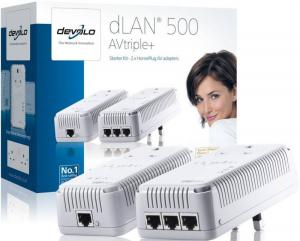 click image to enlarge
DEVOLO dLAN 500 Starter Kit
These are bigger units at 12x6x4.5cm the Ethernet socket is at the top of the unit with the plug at the bottom, great for floor level sockets.
This works in a slightly different way and you should be able to use it with a gang socket by plugging the DEVOLO unit into the mains and then plugging the gang socket into the DEVOLO a nice idea that seems to work.
This kit has one unit with a single Ethernet connection and the other unit with three Ethernet connections. This unit is slightly bigger at 15x7x4.5cm.
This means that three devices can be powered from the single three port plug and it also has its own Wi-Fi to link to that device. I can this being useful where the router is a couple of floors away for a small office of users.
You get a single Ethernet lead in the kit it is 1.8metres long. The number 500 means that is the theoretical connection speed so 500mbps over the 200mbps of the unit above.
There is a large installation sheet again using the illustration method, this means that different sheets do not need to be provided for different countries.
The Wi-Fi works on both the 2.4 and 5GHz wavebands. If not required the Wi-Fi can be disabled for added security.
This is certainly a more advanced – and faster – system than the one above and it does enable a number of users to be connected from a single kit. It is of course more expensive. The ability to connect gang sockets through the plugs is something that can be helpful as few have enough sockets today.
The DEVOLO dLAN 500 Starter Kit is available from the link below for £103.97 with free delivery.
http://www.amazon.co.uk/gp/product/B0065V32DU?ie=UTF8&tag=gadge0a-21&linkCode=as2&camp=1634