Archos 10.1 XS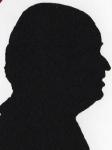 Review controls
This is possibly the best Android Tablet that I have used so far. I will qualify that statement by saying it is most like a standard PC notebook and therefore easiest to use by anyone coming from a PC background to use an Android device.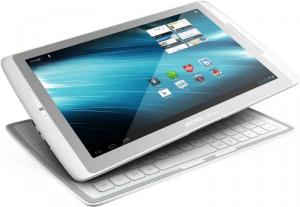 click image to enlarge
The Archos G10 XS Android powered tablet measures 26.5x17x.5cm but it is supplied with a keyboard that allows the screen to sit at around 100 degrees from flat and allow near normal typing. The keyboard is 16.5cm deep and it matches the width of the unit. If taken out with the unit it forms a magnetic sandwich and this of course protects the screen so it is even more like a notebook.
It can however function without the keyboard as you have a perfectly reasonable onscreen Android keyboard if you are not typing a manuscript. The weight with the keyboard is 904grams and without it 636grams, you choose.
Assuming you are using it in Landscape mode the left side has a mini HDMI port, earbud port, micro USB for power and Micro SD for additional storage. The right side has volume up/down rocker a pin hole LED that shows green when power is on and push button on/off. The left side (top when in portrait mode) has a camera. The right side has a 9x3 pin hole speaker that dependant on the output is acceptable for such a small output.
One thing is missing – that I managed to purchase online for less than £2 – is a micro USB to USB dongle and this enables you to plug in any normal USB stick drive so the more expensive micro SD cards are not essential.
I also attached earbuds that are essential to use to listen to tunes or watch video when out and about, when in the home I tended to attach a pair of small speakers which improved the sound from acceptable to rather good.
There is a small User Guide with the first 16 pages in English it covers the controls, setting up a Wi-Fi connection and explains the basics of Android controls within the package it comes with version 4.04 or Android.
The internal storage is described at 16GB but in actuality it's a tad under 14GB available for Apps, Pictures and Audio etc. You can of course add a micro SD card or as described spend a couple of pounds on a micro USB to USB dongle which means you can have extra storage on standard USB sticks which are easier to modify.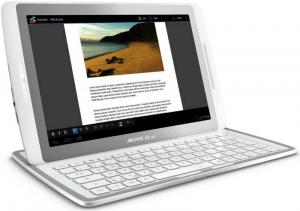 click image to enlarge
Its always hard to state exactly what is basic Android and what are extra Apps the Video module for example is better than a lot and I have watched numerous videos both with the keyboard attached at my desk and with earbuds when out and about and the clarity, sharpness and depth of them was pleasing. For those who like games there are Angry Birds and another couple of games but I cannot be sure this was not added by a previous reviewer.
A lot of other things like Twitter and Zinio and You Tube are on it, I added things that I use frequently like Bus Times, the new BBC Radio Player and Skype. I know they provide an Office Suite which seems compatible to Microsoft Office. The BBC iPlayer is what of people judge things by and I watched several programs with it. You can if you wish purchase a mini-HDMI to HDMI cable and use it to connect to your TV for output.
You have access to the Android Play Store so almost any Android App can be downloaded both free and those requiring payment. Boot up takes 45 seconds and shutdown is 10 seconds but you can use deep sleep where wake up is only a few seconds.
While the screen is a little reflective it does not show fingermarks that much and the screen surround being grey and cream does not show any marks at all. My unit was marked as an Engineering Sample but I am told it is the same as a shipping product.
The Archos 10.1 XS is available from the link below for £293.83 with free delivery.
http://www.amazon.co.uk/gp/product/B009EPMYMY?ie=UTF8&tag=gadge0a-21&linkCode=as2&camp=1634
http://www.archos.com/products/gen10/archos_101xs/index.html?country=gb&lang=en&slider