ViewSonic VG2439m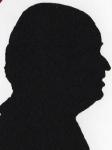 Review controls
This is another in a range of larger flat panels to have recently crossed my desk. This one has VGA, DVI and Displayport connections as well as USB to power a hub. Here however you can control how high off the desk it is.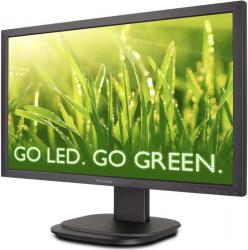 click image to enlarge
Assuming this is your only display then use either DVI or VGA and you should get a perfectly acceptable image. Should you need any further advice then you need to consult the manual that is in PDF format and to view this you need a working monitor. While this unit has Displayport most such connections are on Apple units and I do not have one of those so I cannot comment on whether this works out of the box on first connection or not.
There is an A5 sheet marked Quick Start Guide that has three diagrams the first shows five connections, the second shows a power lead and the third a CD, in all cases they are between the display and a computer or mains socket. There is a further A5 sheet that shows you how to connect the display and its base together and on the reverse side how to remove the two. The CD has far more detailed and helpful advice but of course this requires the display and the computer to be working.
This is described at a 24inch panel but the actual display size is mentioned on the box as 23.6 inches something not all manufacturers do.
The screen surround is 56x32x2cm and is matt black, if they can make panels matt black why on earth can't they make notebook screens the same – unless you pay a high premium – is a mystery to me that I would love an answer to.
The viewable screen is 52x29.5cm which gives the notional imperial measurement of 23.6 inches which is viewable. The resolution - as with most monitors - is 1920x1080 which is often referred to as full HDMI so modern movies look better.
The stand is 22cm square and as shipped this will raise the unit 9cm above your desk. It is shipped with a large pin inserted in the stand support and should you remove this then the lift can be as much as 22.5cm above.
The stand itself pivots on a turntable allowing side to side movement; there are five degrees of forward movement (very important when viewed from below) and a good amount of back movement around at twenty degrees. You can also use it in portrait mode should you wish.
There are five cleverly cut diagonal controls near the right bottom edge that form the onscreen controls and because of the way they are placed there is space at the end for an orange/blue LED to display power and while it is noticeable it is not a huge beacon so it should not distract. The five buttons are highlighted in black on black and unless you have very strong room lighting a torch may be a good way to see the markings on them. They are 1, 2, down arrow, up arrow and on/off. Once the screen display is on the use of each is clear.
The rear connections are DVI, VGA or Displayport and there is a hub to allow USB connections the latter is useful if the panel is someway from the PC. There are adequate speakers built in but because of no HDMI you need to connect the supplied audio out cable from the PC to the panel, there is adjustment via the onscreen control, however it is probably easier for those using it to display from a PC to set the volume on the unit at maximum and use the Windows tray control to get the level required.
I used this as my main panel for two weeks and during that time it was often on for more than twelve hours the main desktop image stayed rock solid and the colours displayed did not change in any way, in fact the image at 8AM was the same at 8PM. The stated contrast ratio is 20,000,000:1, or for you and me, plenty to spare.
Doing my searches found the Viewsonic VG2439M at £187.45 with free delivery from the first link below.
http://www.amazon.co.uk/gp/product/B008CJ1UV4?ie=UTF8&tag=gadge0a-21&linkCode=as2&camp=1634
http://www.viewsoniceurope.com/uk/products/desktop-monitors/graphic-series/vg2439mled.htm