JoyTab Android 4 8inch Tablet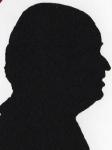 Just that little bit smaller than most current Android Tablets. This has the advantage of the latest version of Android (Ice Cream Sandwich) 4. Being that bit smaller can increase battery life and is that bit easier to handle.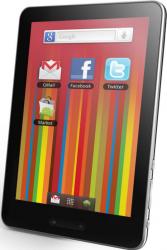 click image to enlarge
The Gemini JoyTAB measures 15.5x21x1cm and weights 500grams. My unit had 8GB of memory (but according to documentation) 4GB and 16GB are also available. Apart from in bright sunlight it is easy to read, great in poor light but the screen is reflective.
The viewable screen is 16x12cm. I shall mention where thing are assuming you are using it in portrait mode. Under the screen are two push buttons 'Apps' and 'Back' towards the right edge is the screen facing camera ideal for Skype and other such uses. The resolution is up to 1.2MP. You also have an option to take movie images.
The top edge is clear, the right side has 'Home', Volume + and – on a rocker and finally on/off button. The left side is clear while the base has headphone/earbud 3.5mm jack out, mini USB for charging or connection to PC, DC input, mini HDMI out and finally a Micro SD card slot it is said to support up to 32GB so ideal for movies.
The back of the unit has an inbuilt speaker, charging can be done from USB but will take about four times as long as direct from the supplied DC cable which transfers at 2A while .5A is what the normal USB transfer will be.
My unit came without a User Guide – probably because it was new – but a PDF file was provided and this was clear, had plenty of illustrations and good detail, so even if this your first Android device you should be fine.
The video player allowed full HD videos to be displayed landscape at 16x9cm and for personal viewing the sound was ok. The video quality was good and showed no sigh of dropped frames even when played from micro SD card.
A disappointment was the lack of a rear facing camera which meant that you have no exact idea of what you are capturing although the inbuilt microphone gave good sound quality to what ever you manage to capturing blind.
When in landscape mode the base of the screen has 'Back', 'Home' and 'Open' touch buttons as well as some other icons towards the right side that show Wireless connection, Digital Clock and Battery state amongst others.
All the normal Android Apps can be downloaded from 'Play Store' and all your apps are available by touch from the top right of the screen. Apart from the Apps screen (or screens) you also have Widgets spread over three screens.
The storage buttons lists available memory and separately any available memory from whatever micro SD card you have inserted.
The processor is an Arm Cortex A8 1.2GHz with 512MB DDR memory and 8GB of internal storage. As you can connect to the Internet you can send and receive emails and do whatever on Facebook or Twitter as well as browsing the entire Internet. The supplied book reader was also good.
I found the inbuilt keyboard quite useable as it is bigger than a phone but smaller than a notebook the keyboard is rather easy for those with larger fingers who often find small touch keyboards difficult to use swiftly.
This is the middle of three versions 7inch, 8inch and 10inch. I found this available for £149.99 with free delivery from the link below.
http://www.amazon.co.uk/gp/product/B007FBFXEK?ie=UTF8&tag=gadge0a-21&linkCode=as2&camp=1634