Viewsonic 23inch Panel VX2336S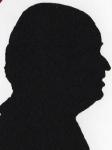 This is another in a range of decent good sized panels recently seen. This one from Viewsonic offers a not particularly reflective screen and joy of joys someone has produced a panel surround that is not reflective shiny black.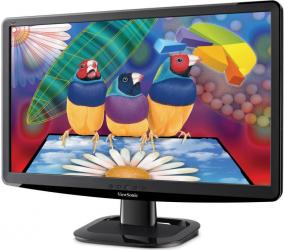 click image to enlarge
The Viewsonic VX2336S panel measures 55x33x6cm but only 2.5cm thick at the edges. The viewable screen is 50x28.5cm giving the diagonal imperial 23inch measurement.
Under the viewable screen are five clearly marked buttons to allow any adjustments you may wish to make, these are on the face and not hidden on the bottom edge where knowing what each does means trial and error.
It does not have built in speakers so the rear under the back flap of the unit has just three connections, DVI, VGA and power. All three leads are supplied.
The screen controls are great with clear indications of which button should be pushed to complete which task.
The first great feature is that you can connect two computers to the single screen and swap which is displayed currently by using VGA on one and DVI on the other, on simple button press to swap between PCs.
Contrast is set in the range up to 100 and I found middle 60s was a comfortable figure. Brightness uses the same range and here I found 75 to my liking. Next choice is Colour Adjustment and here there are five pre selected sRGB, Bluish, Cool, Native (default), Warm and finally user colour that allows you to select your own mix of Red, Blue and Green. The dynamic contrast ratio is 20,000,000 to 1.
The information screen displays image resolution, the default is 1920x1080, horizontal and vertical frequency as well as Pixel Clock and the model and serial number of the panel, all this from a single display window.
It is possible to manually adjust the image but I found at the default resolution the system knew best. You can enter an Eco mode from this screen this has three different options Standard, Optimize and Conserve but the latter two will probably require higher contrast and brightness so a little self defeating. If all goes wrong try the last option Memory Recall.
If you are going to watch a lot of DVDs then you might set a mode especially for them but I found my settings worked adequately for static and moving images. I found around 80 degrees off centre in all four directions still gave a watchable image. This is probably due to the excellent LED backlight.
There is no side to side movement of the panel but it is not heavy so easy to move. Back movement is around 20% and movement forward from vertical about 5%.
Part of the review was made with attached to a second PC and mounted above and to my right so the base of the screen was at eye level and the panel itself around 50cm from my eyes still easy to switch focus to check action.
In the position mentioned I had around 50% of the possible forward movement set to give a nice easy to watch image.
Even after a long day of use the image remained constant and the colour did not change from first switch on to switch off.
Doing my Internet searches found the Viewsonic VX2336S at £111.33 with free delivery.
http://www.amazon.co.uk/gp/product/B006DDGJMQ?ie=UTF8&tag=gadge0a-21&linkCode=as2&camp=1634
http://www.viewsoniceurope.com/uk/products/desktop-monitors/vx-series/vx2236sled.htm