Samsung Business Notebook P580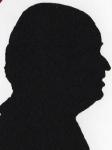 I have been fortunate to have this longer than a standard test which means I have been able to test a larger range of software and hardware with it than normal. This is a high end offering and the differences can be found.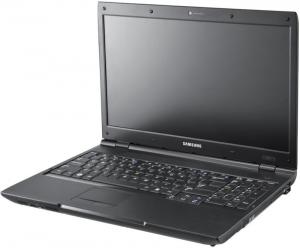 click image to enlarge
It is black but not that horrible shiny black that shows every finger mark, this is matt black everywhere apart from the keyboard surround that is a sort of slate marble finish but still a lovely matt finish. It is 37x25x3cm in size.
The weight is a little under 2.5kilos. The front has a discreet SD card slot along with a row of seven tiny LED's. The left side has VGA out, HDMI out, USB port, E-Sata port and 3.5mm sockets for microphone and earbuds. The back has a Kensington lock anchor point, Ethernet port and DC input. The right side has a DVD multi optical drive and two further USB ports. The base has indicators on battery to show the amount of charge remaining.
Open the lid and the viewable screen is 34.5x19.5cm giving the notional 15.6inch diagonal measurement the screen display is 1366x768.
There is a 101key keyboard with all but the function keys being fullsize and for those who enjoy them there is a full numeric keypad. A 3.5cm strip behind the keyboard has some reasonable speakers as well as the on button.
In front of the keyboard is a 9.5cm strip with the trackpad being set 11.5cm from the left and 18cm from the right side.
The boot time was a rather disappointing 110seconds, but the shutdown was a far more acceptable 15seconds.
However if you use standby the restore time to a full desktop was far better being a few seconds to less than 25 seconds when on standby for a day or more.
It comes with a range of applets as well as Windows 7 Professional 64bit version and for those who use it there is now a fully working (with everything I tried) 64 bit version of IE as the Adobe software is now available.
As you would expect from a professional notebook the experience score is quite high at 5.5. Made up of Processor at 6.2, Memory at 5.5, Graphics at 6.4, Gaming Graphics 6.4 and hard disc at 5.9, a speedy machine.
Battery life with wireless use was only around 150 minutes from a full charge and recharge to full was around the same.
As stated not only was I able to use the built in software I was able to connect a range of external devices such as Wireless All In Ones as well as the excellent Veebeam unit (recent review) that uses its own wireless encryption and with stored videos running from an external hard disc connected to the notebook and the wireless signal sent via USB to the Veebeam unit I got great replay on my TV, this had the notebook acting as a server without problem.
This is one of a range of Samsung notebooks that has the ability to allow one of its USB ports to remain live while switched off.
Cosmetically I loved this unit, the screen was far less reflective than 'cheaper' notebooks and I have already mentioned no fingerprints, the Intel Core i3 processor worked well and the 3GB of Ram proved perfectly adequate.
Doing my Internet searches found the Samsung P580 Business Notebook at £723 from the link below.
http://www.amazon.co.uk/gp/product/B003UUAORQ?ie=UTF8&tag=gadge0a-21&linkCode=as2&camp=1634
http://www.samsung.com/uk/consumer/pc-peripherals/notebook-computers/p-series/NP-P580EBM/UK/index.idx?pagetype=prd_detail